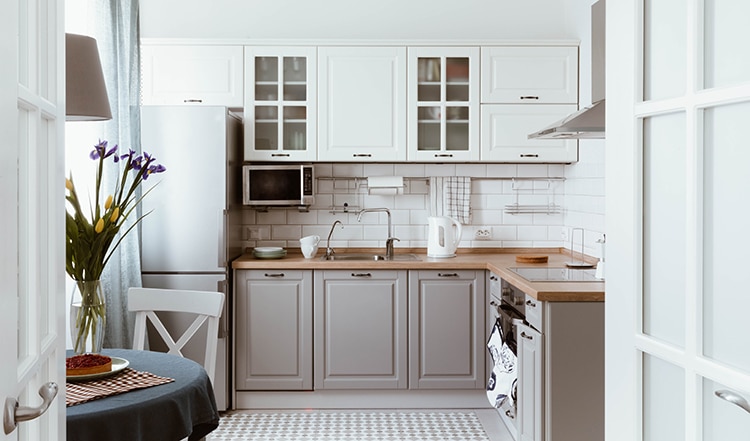 It's no secret that 2020 has been a tough one – and lets be honest – a weird year for us all. For us at Kitchen Craftsmen it meant we weren't able to take part in the biggest Kitchen design convention in the world (Eurocucina). But thanks to the joys of the internet we've still been able to catch a glimpse of what is coming and can now share with you our predictions for kitchen design trends in 2021.
Slotted doors
As more of us start to watch more and more renovation shows from the US (our fave is Fixer Upper), the styles and looks we're seeing requested are reflective of some of the looks seen overseas. This first one, slotted wood doors, is gorgeous and really creates a farmhouse, vintage style look.
In simple terms, the wooden pieces simply slot into one another and create the individual panel look. This look is now being recreated with hard wearing Polytec and Laminex options so you can get this great style without the price tag of actual individual pieces of wood. The Polytec & Laminex products tend to be more hard wearing than painted wood products too which tend to chip and aren't as easy to clean.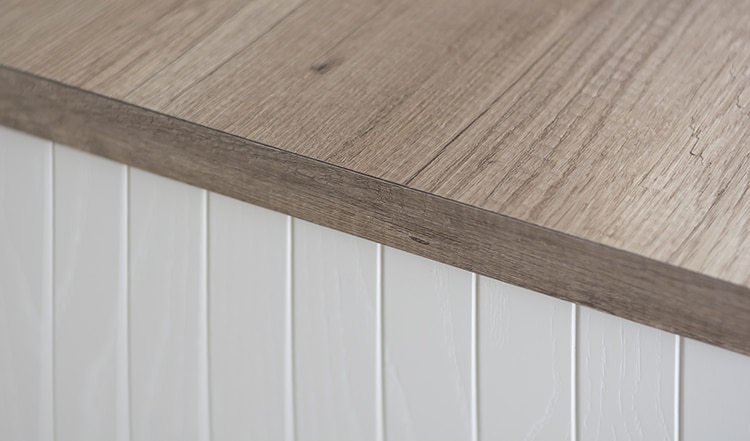 Strongly grained stone
This is one trend Australia has been loving for a couple of years now but is defeinitely set to remain popular in 2021. It is definitely the time of the strongly grained stone and the busier the better.
This gorgeous look gives your kitchen that unmissable luxury and next-level style that you've been dreaming of. For an even more glam look consider including waterfall edges on your island and/or continuing your stone up the wall as your splashback.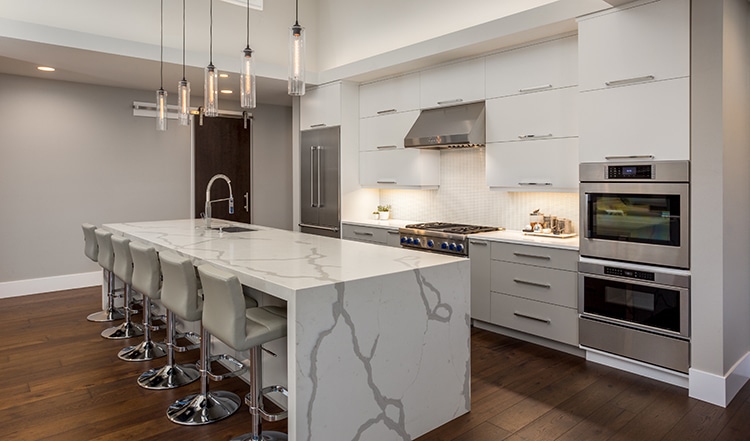 Wood
Wood looks are making a comeback and we couldn't be happier about it. This natural look in a kitchen helps to create a feeling of peace and tranquility and can look really modern at the same time. Subtle light woodgrains combined with warm stone tones will definitely create the space you've been dreaming of.
Match wood with white cabinets if you're looking for a two-toned kitchen, which is another of the trends we're expecting in 2021, and you've got two trends in one!
We built this gorgeous kitchen for our client Rachel who was clearly in on a trend before we were – doesn't it look great!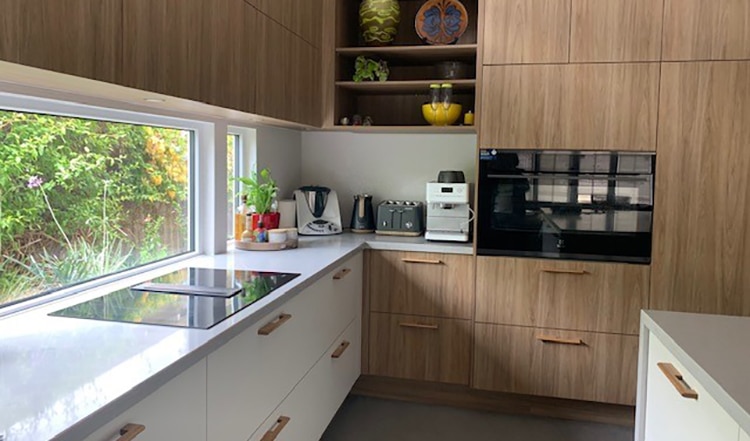 Matte Black
The time of the white kitchen is coming to an end…well not really but black is back! Often overlooked as just an 'accent' colour, black walls, cabinetry and work surfaces will have a moment in 2021.
But this statement kitchen isn't for the feint hearted! Some might think black is out of the question but pair it with wooden floors or with some wooden cabinets, a white benchtop and some stand out light fixtures and you'll be so stylish your friends will be wow'd by you.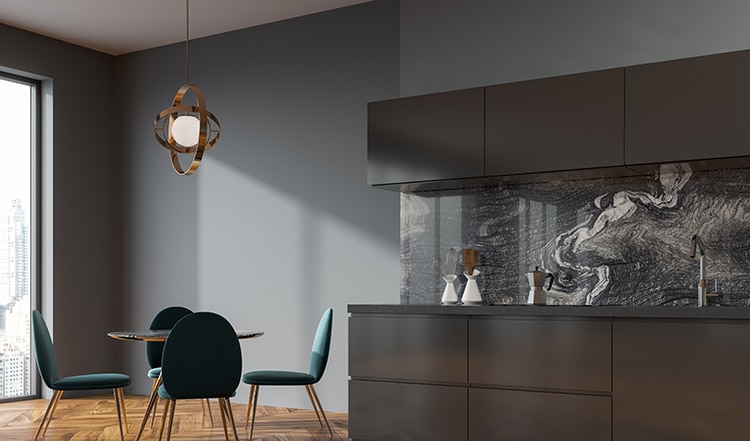 Colour Pops
We love when clients take the great step of adding a pop of colour to their new kitchen. That could be in the form of a glass splashback, colour cabinets or simply coloured furniture or accessories to bring colour to their space.
But colour can sometimes have a limited lifespan so we encourage you to look beyond the trends and choose a coulour that will have you feeling good in the long term. And remember, traditional doesn't mean boring but being 'trendy' can sometimes date your space and give you some troubles if you go to sell your property.
We expect this trend to play out in the form of a two-toned kitchen in 2021. Think coloured cabinets for your island bench and then a more neutral tone for the rest of the space.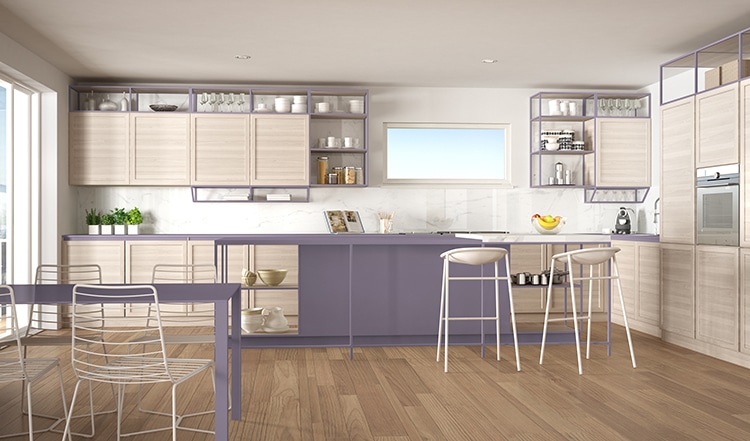 Handleless cabinet doors
This one has been in the works for a while now too, the clean look of handleless kitchen cupboard doors is one that is winning over kitchen renovators across the country. But you might be asking, 'what about all the fingerprints'? Well we've got you covered there too, there's so many options for cabinet doors you won't need to worry about that at all. Basically any look you want to create can be made without handles.
If push-open cabinets aren't your thing, that's ok, recessed handles will create the same sleek look and can be lined with contrasting colours and materials to add interest.
Plus, add in some of the in-cabinet technology now available and you'll have a very stylish and up-to-date kitchen!

Gold finishes
Oh Gold, you little beauty you! Adding gold finishes to your kitchen will take it to the absolute next level of luxe and luxury without a major price tag attached. In fact, you'll probably be surprised at how inexpensively you can add pops of gold to your kitchen.
With such a wide range of colours and finishes in taps, sinks are now starting to follow suit. Aesthetics in wet areas have moved up the list of importance for customers, and so have the range of colours, shapes, sizes and materials for so many elements of the kitchen. Sinks are becoming one of these items which are being looked at as important elements in the design. Models are now available which aren't purely functional but also make a definitive statement.
Imagine a gold sink in your new kitchen to match the gold tapware. Oh swoon!

Stone splashbacks
Stone splashbacks will be a big one in 2021, you heard it here! It's such an easy option to choose, especially if you love the stone colour you've chosen for your new kitchen benchtop. It creates a statement look in your space and can turn a neutral looking kitchen into something quite spectacular.

Two-toned cabinetry
We love, love, love a two-toned kitchen. There's a few ways you can achieve this look; different coloured island bench cabinets, different coloured upper and lower cabinets, or simply a different colour of cabinets in a certain section of your kitchen.
But two-toned doesn't just mean two different colours, use wood and a colour and you've almost got a Scandinavian style kitchen with a twist. And, it also doesn't mean you have to choose a bold colour to pair with a neutral one, two neutral colours can work just as well!
If you love this look but are nervous about mixing colours, don't stress, our designers will create you a 3D image of your new kitchen to review and make changes to before you go ahead so you can get the colours just right for you.

Getting into your new kitchen is even easier with our great special offer, check it out and book your free consultation with our expert kitchen designers today.