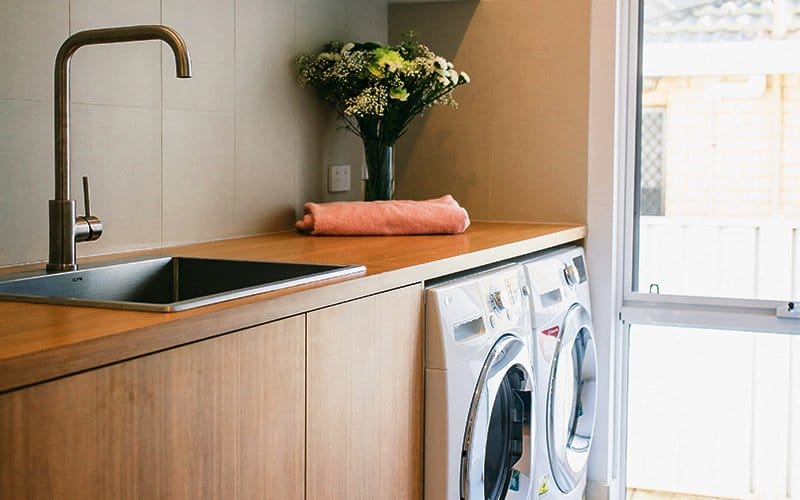 The laundry is one of the most functional places in your home but that doesn't mean it can't also be one of the most on trend. In Australia, we use our laundry rooms to perform many functions, not only are they where you wash and iron your clothes, but also a mudroom for children or the place where our pets may sleep.
Recent years have seen renovators and those building a new home ensure the styling of their laundry adds to the aesthetic of their home. Beautiful finishes, storage hacks and amazing technology are now incorporated into laundry fitouts and we love how these spaces can make the washing of the clothes seem somehow less of a chore.
Here's our watchlist for 2021's laundry trends:
1. Extra Storage
In the past, laundry rooms have come with only one or two small cupboards which isn't enough space for all the linen and washing products, let alone everything else we use the laundry room for. Extra storage is really important and new laundry rooms make sure to use all the space wisely. Opting for stacking your washer/dryer, adding in floating shelves and cabinetry above and below your work station will ensure you have storage for every use. Wall mounted drying racks and fold out ironing boards also help to optimise the space in this room.
Our favourite laundry storage hacks are custom ironing board cupboards, hidden powerpoints with appliance storage and hidden stacked sorting baskets to make light work of managing the washing.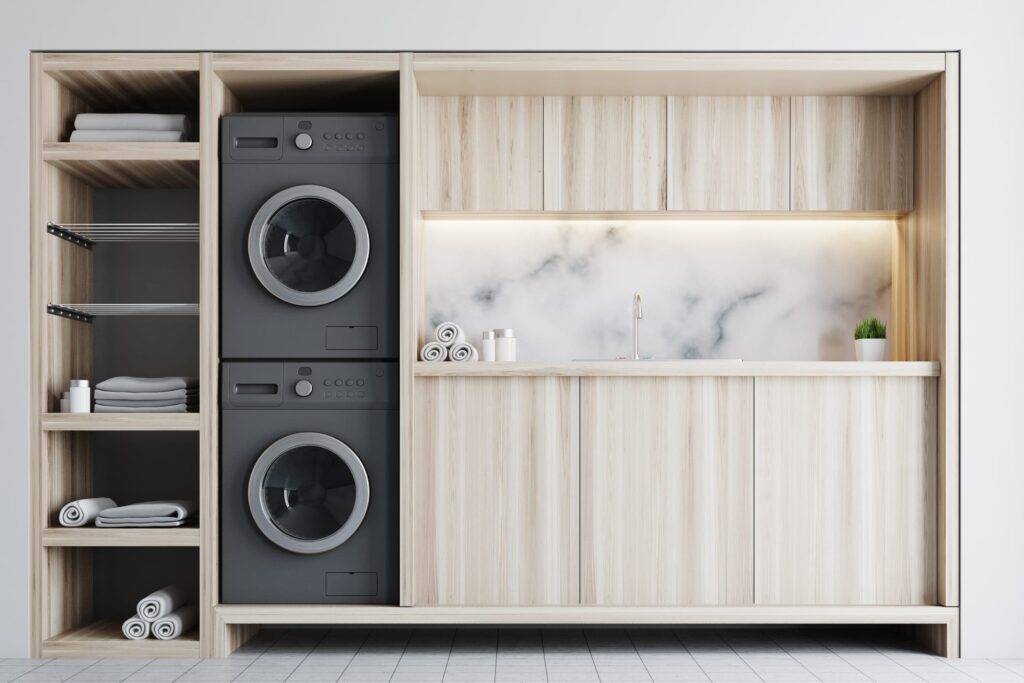 2. Laundry Technology
Washers and dryers have evolved significantly with machines now able to do both in one. The latest models have larger capacity which is great for those growing families, AI technology that weighs and assesses your load for the perfect cycle plus they are now so quiet, you can wash and dry whilst you're sleeping to save time. They're much more aesthetically pleasing, the perfect addition to your new laundry room.
Another great technological inclusion is under-floor heating. Since Roman times, the idea of walking on a warm floor has been incorporated in homes and bathing houses. The shock of an ice cold tile floor when barefoot is easily avoidable!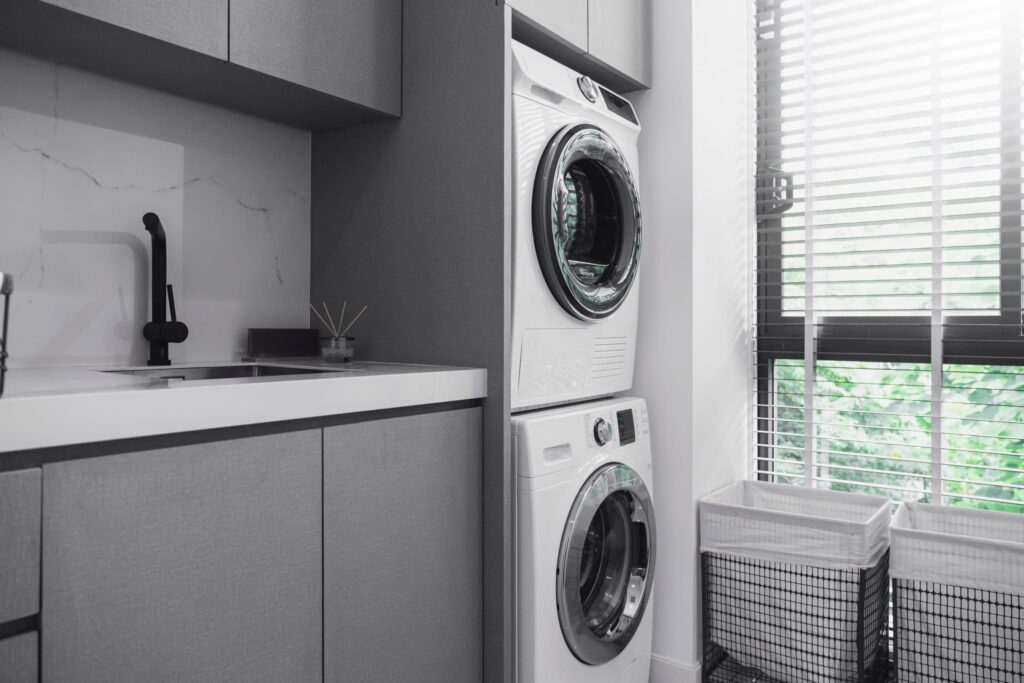 3. Colours and Materials
Whilst we're on aesthetics, the style of this room is important. Families are spending an increasing amount of time in this space so why shouldn't it look as great as the rest of the house? Colours and décor inspired by nature are in, such as ocean blues, leafy greens or stone grey. Splashbacks can be the traditional tile or glass with a print of your choice behind, giving a polished and easy to clean surface.
Bringing as much natural light into the space as possible helps to open up a room and will also give you the opportunity to place some plants in the room. We love hanging vines and pots in theme with the cabinetry.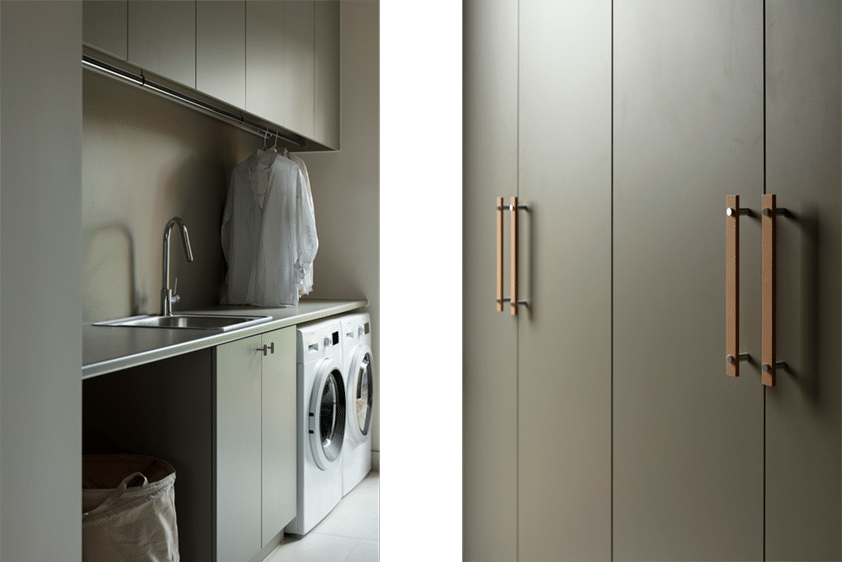 4. Mudroom Functionality 
Laundry rooms aren't just for laundry anymore especially when you have a bigger space to work with. A laundry door makes the perfect entrance for when you want to enter the house after a wet day but don't want to drag any dirt and water from outside through your house. It acts as the ideal location to store your shoes, coats and dog leads keeping the rest of your house free from outside mess.
Great additions to a mudroom include storage for your shoes, a floor mat, a seated area to take shoes off, hooks and hangers for coats and storage baskets for hats and scarfs. It's also a great idea to have a clock here so you know what time you're coming and going.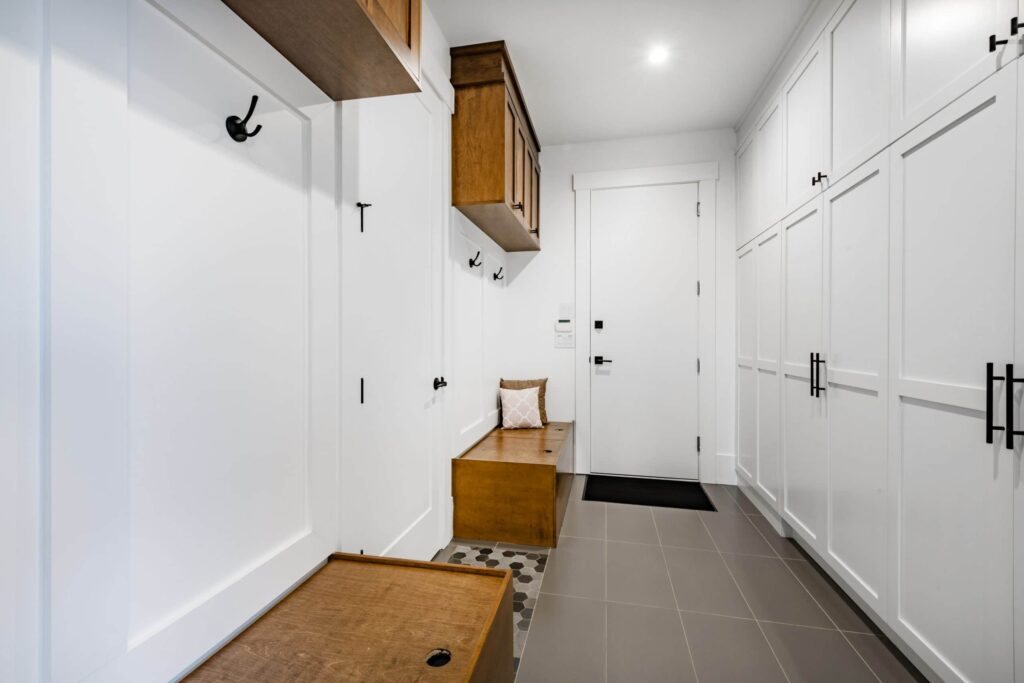 5. Pet Care
The laundry room isn't just for humans, it can be a great room for our pets too! A pet washing station is a great addition to these spaces. Their proximity to the back door and waterproof surfaces make them the perfect place for this, often messy, activity. Along with the washing station, think of adding a dog crate or bed into the cabinetry and a section for their food (hidden away from those sneaky paws). Adding a pet door to this room too can make it the perfect place for your furry friend.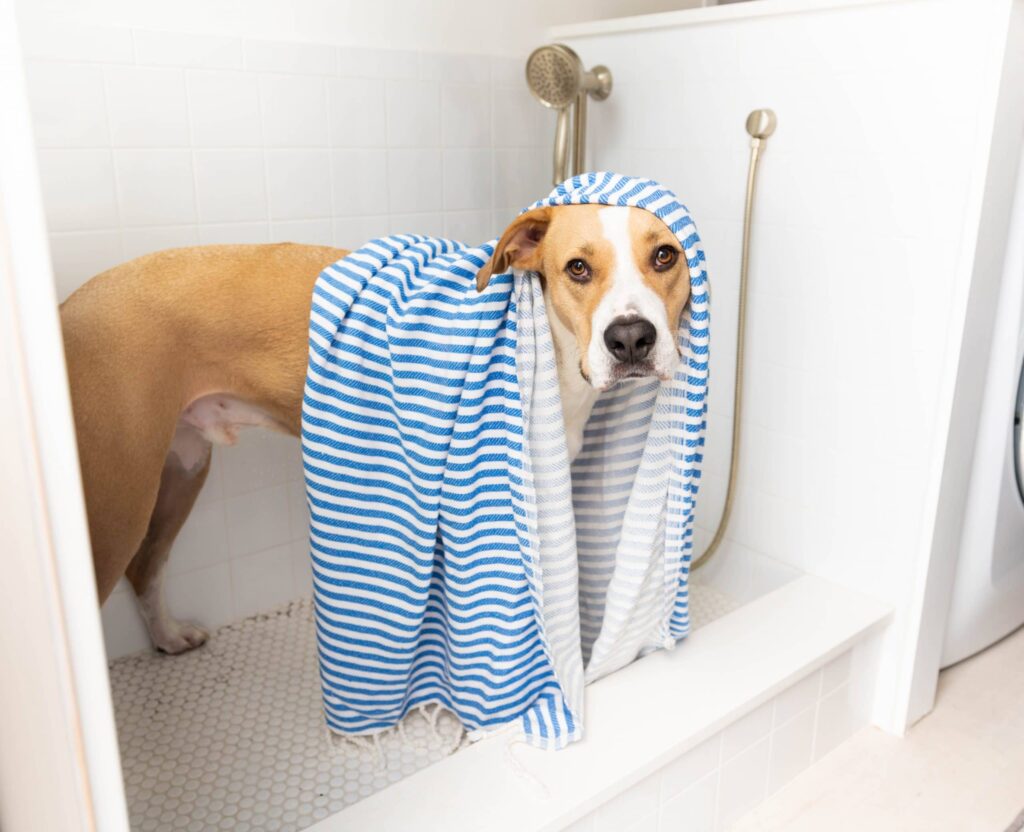 6. European Laundries
Some smaller homes might make you think you miss out on having a great laundry room but never fear, European laundries are here! These laundries are hidden in cupboards or small spaces in homes without a dedicated laundry room. Having one of these laundries doesn't mean you have to sacrifice functionality. As long as you can fit in your washer/dryer, some storage space and a laundry basket, you have everything you need for a fully functional laundry. Our hot tip is to add some soundproofing or extra insulation to the cupboard so the noise from the machines doesn't disturb your other activities.
Our expert designers have years of experience creating functional and beautiful spaces for Western Australians. Set our designers the challenge to create the laundry of your dreams – you'll be surprised at what can be created.
For more inspiration or to discuss your new laundry project, visit your nearest Kitchen Craftsmen design showroom or book a free consultation with one of our experienced designers today.