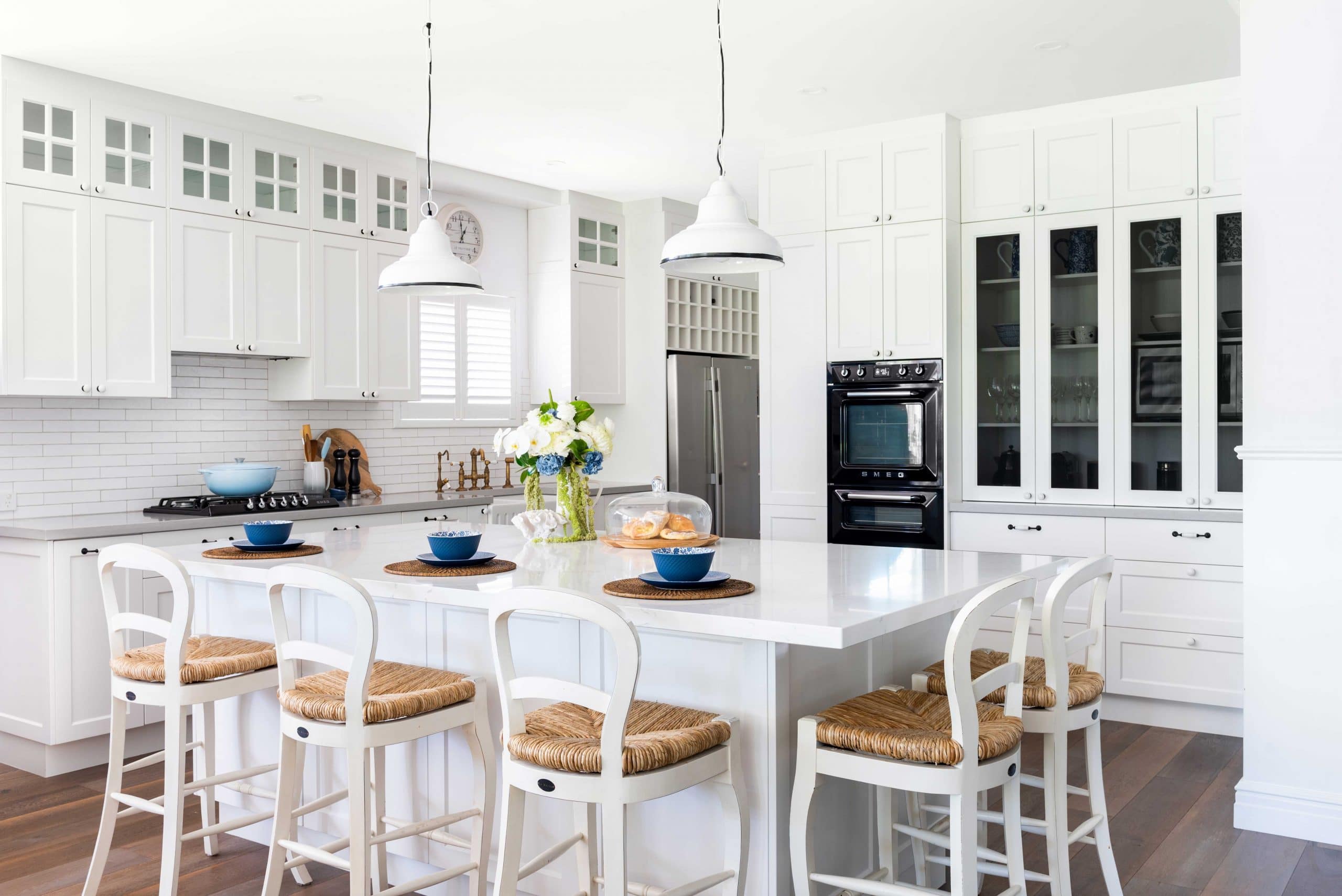 With 2020 just ahead, it's time to explore what's new, what's hot, and what's forecast in the world of kitchen design. There's plenty to inspire you, so have a browse of some of the top kitchen trends we have seen coming through recently. And remember, a Kitchen Craftsmen designer will be delighted to help turn your dream kitchen into a reality.
---
DESIGN DETAILS
Today's kitchens must be functional workhorses and stylish entertaining hubs, all at the same time. So it's no surprise design trends are moving to be more minimalistic, sleek and tidy, with clean lines. Contemporary kitchens are all about multi-tasking easily within a pared-back look. They're still stylish, but the streamlined 'no-handles' look for cabinet doors and drawers  is popular, thanks to sophisticated touch-to-open technology advances. Cook, clean and create with both hands free! As kitchens become larger in open plan living spaces, the essential kitchen island is becoming two. Double islands deliver more versatile work and entertaining space. Also predicted is kitchen design around your large oven as the focal point, with an emphasis in a feature rangehood, splashback, or lighting installation.
---
COLOUR IN CHARGE
Though kitchens are minimalist-inspired, 2020 is the year colour is forecast to do all the talking! Think bold primary colours and unexpected secondary colours that tell a story in creative and eclectic ways. Emerging trends see us more closely connected to nature with blues and greens in both rich and deep hues, as well as natural, pastel, chalky and muted tones. Forest greens, ocean blue-greens and dusty pinks will all be popular, and moss, sage and hunter greens are not to be forgotten. Greens can be balanced with metallic accents, smoky glass or creamy latte shades. Also on-trend are moodier and more intense navy blues and dramatic charcoal. Black remains a great accent colour, although it's more muted and matte for 2020. Don't be afraid to experiment with colour, particularly against your benchtop texture and materials, and your cabinet style and tone.
---
METALLIC MAGIC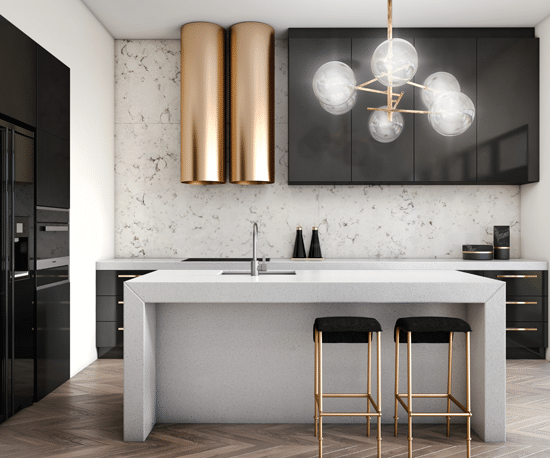 Alongside colour, metallics will be hot in 2020. They give a unique charm to modern kitchen design and combine beautifully with contrasting surfaces to add detail in innovative ways. You shouldn't worry about making all your metallics or metallic accents match. Think about cool brass for your taps, copper for a rangehood, or more rustic tones in feature cabinet doors. Recessed metallic cabinet handles add interest, and pendant lighting brings metals to life with wonderful effect. Suspended metal frames as shelving creates a luxe visual statement, and all metallics work in harmony with natural materials that are trending for 2020.
---
WARM WOOD TONES
The move to minimalism is supported by a revival in beautiful, natural wood and woodgrain. It's also a perfect partner for the surface textures predicted to take 2020 by storm. Solid, natural wood benchtops bring memorable warmth to kitchens. Think about subtle-grained ash, which is paler than oak. And beautiful walnut cabinetry is also on the rise. It's rich, dark colour, fine grain and natural ambience give a feeling of instant luxury. Woodgrain finished pick out the complementary or contrasting tones found in marble patterned engineered stone and ultracompact surfaces.
---
TOP TEXTURES
With natural being the watchword, marble and granite patterns found in engineered stone, ultracompact surfaces and laminate are forecast to be big. Marble pattern, in particular is making a huge comeback. Considering your lifestyle, quartz and ultracompact options are exquisite in design, and repel stains like red wine. However, consider your lifestyle, and look also at the many quartz options that are just as exquisite in design, but repel stains like red wine. Innovative engineered stone technology can create beautiful and intriguing textures that give your kitchen a unique design sense.
---
Overall, kitchen trends for 2020 promise a perfect fusion of natural materials with plenty of texture and pattern, sleek and minimalist design for easy living, and colour as the main act that boldly brings your stunning new kitchen together.
And every member of our Kitchen Craftsmen team is just as excited as you! So make a date to visit one of our 5 showrooms and get talking to them about your new year kitchen!