CORONAVIRUS PRECAUTIONS AND INFORMATION
CRAFTING YOUR PERFECT KITCHEN
KITCHEN CRAFTSMEN OFFER UP TO 12 MONTHS INTEREST FREE
Ask a kitchen renovation expert
If you're looking for your dream kitchen, chances are Kitchen Craftsmen has exactly what you're looking for. Our designer kitchen range is extensive and designed to suit a wide variety of tastes and budgets, from cost efficient solutions through to luxurious family kitchens that will become a real centrepiece to any home.
We are proud to partner with some of the world's leading brands in kitchen benchtops, storage, appliances, innovation and more. In doing so, we are able to create innovative and eye-catching kitchen designs, all finished to the highest standards of quality and functionality.
The true heart of the home
What sets our team at Kitchen Craftsmen apart from the rest? For a start, we understand the kitchen in a home is more than just a room. It's the true heart of the home – and its design should reflect this. That's why we pay such special attention to the kitchen space, functionality and practicality, as well as what our customers need in every custom-made kitchen we produce.
We've been building high quality, kitchens for the people of Western Australia for over 20 years. We've built our business on exceptional customer service and delivering high quality products. What started out as a kitchen renovation company has now expanded to bathrooms, laundries and even ensuring you're able to entertain all year round with an outdoor kitchen.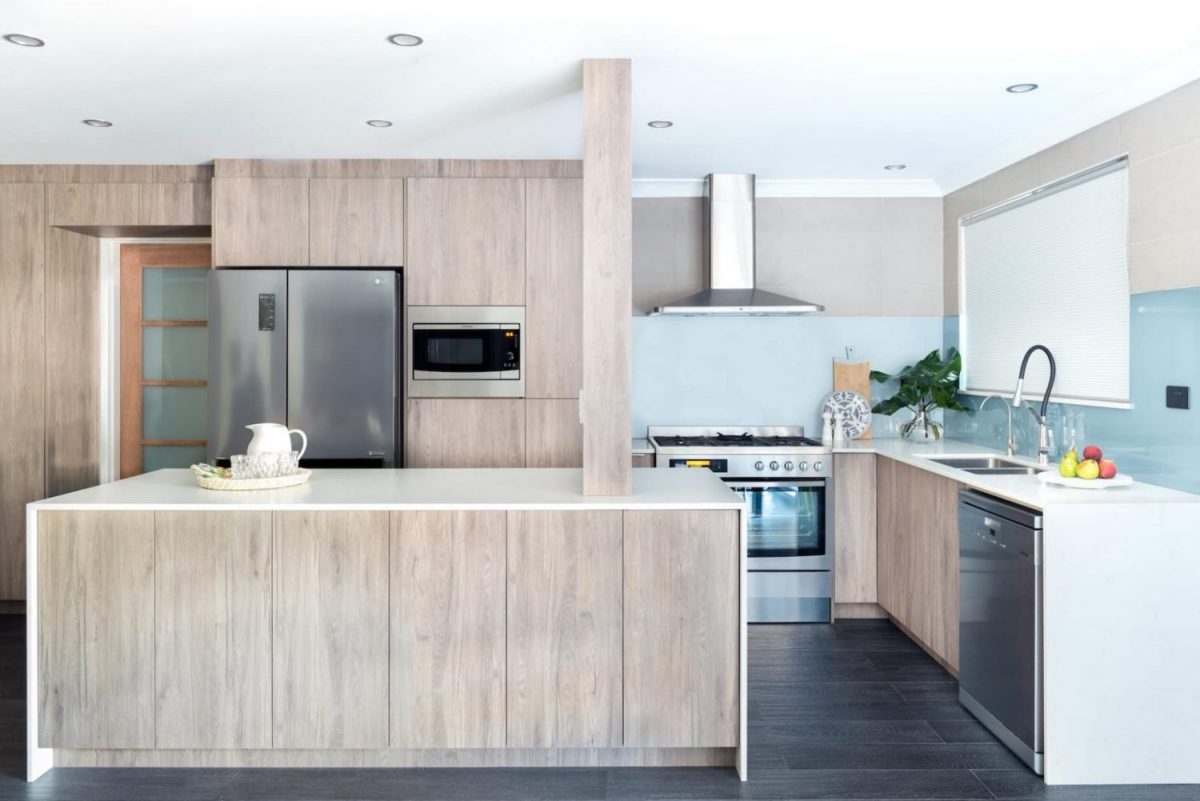 Choosing the right bench top is important
Whether you're looking for an engineered stone or laminate benchtop we've got you covered with a huge range of colours and styles to suit your ideal kitchen.
From contemporary and on-trend accents to traditional and neutral tones, we have the right product to suit your design and your lifestyle. We pride ourselves on using Australian made products and delivering our customers an exceptional level of service.
Our kitchen benchtops come with a 15 year limited warranty.* First-class quality, combined with our design and craftsmanship expertise, will give you the many happy years of lasting beauty and style that you would expect from a Kitchen Craftsmen designer kitchen.
Exceptional customer service at every point
As a business, we take customer service very seriously and aim to provide a standard that the building industry hasn't seen before. That's why our customers love us and keep coming back.
Whether you're doing a full kitchen, bathroom, laundry or alfresco renovation project, or just want to make small tweaks to give you the room you've been dreaming of.  
Our professional and experienced team will visit your home to measure your space, work with you to ensure your wants and needs are incorporated in the new design, discuss cabinetry choices and any innovation in storage solutions, and make sure you're 100% happy before we move forward to the building phase. From the designer to the team project managing your renovation to the kitchen installer, we all work hard to deliver you exceptional service at every touch point.
There's a reason our customers keep coming back, read more from happy Kitchen Craftsmen customers.
Need inspiration for your next renovation project?
We've got you covered. Check out the Kitchen Craftsmen blog for inspiration, loads of interior designer ideas, kitchen ideas and other tips and tricks, help with staying on track with your budget, cost-effective solutions for maximizing your space and designing the perfect kitchen, choosing the right kitchen cabinets, kitchen island style or open shelving options, and so much more!
Or, let us help and we'll show you around one of our five Showrooms so you can get a feel for which elements and style you'd like in your new space.
Not sure what to expect? Let us help.
Completing a renovation of any kind can often be stressful, mainly due to the disruption of your normal routine and the worry that things won't be as you expect them. We know it's better to be eyes wide open about a project so you know what to expect.
We've put together all the information you need to help you be prepared for your next renovation project. Check out what you can expect from start to finish of your project.
Ready to get started? Talk to us today about booking your free consultation.