Kitchen sinks
We never underestimate the value of a good quality sink. Kitchen Craftsmen offer a broad spectrum of the latest sinks and taps to meet every budget. We've partnered with brands you know and love, including Clark, Oliveri and European innovator Franke, giving you the best price every time and guaranteed on-time delivery of the products you want.
So now all you've got to decide is:
Do you want one bowl or two?
Ceramic or stainless steel?
With or without a drainer/waste disposal?
Under-bench or above?
Choosing the right one for you
With few features in your home used as often as your kitchen sink it's important that you choose the right option for your family. Here's a few options you might want to consider:
A large, single kitchen sink
The deep, large basin allows for soaking large pans or preparing large quantities of food but it also means that you can only do one thing at a time in your sink. Large single sinks do tend to be a bit of a statement though which might look great in your kitchen design.
Two basins of different sizes
These are great because they allow you to do more than one thing at a time in your sink. Think cleaning dishes and cleaning vegetables with ease. Another great feature is that if you don't want to put items in the dishwasher you can wash in one basin and rinse in the other. But what's slightly more difficult with this option is washing or soaking large pans.
Two basins of the same size
This option creates great symmetry in your new kitchen design. But functionally it also has the benefit of allowing separate tasks to be completed within the sink space. Again though, the large pan may need to soak on your counter.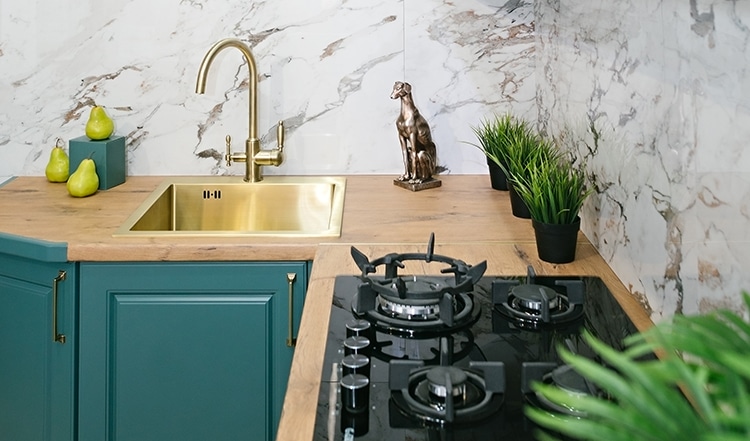 Let's talk materials
Choosing the right material for your new kitchen will create a statement and matching it to the style of your new kitchen is also really important.
Stainless steel
Probably the most popular sink version. It's not only an affordable option (unless you choose a high end manufacturer) but it's also heat and stain resistant (but not to water spots), and is easy to clean.
Ceramic
This timeless style of sink is extremely durable and looks great in any kitchen design. The most recognisable style of ceramic sinks is probably the farmhouse style sink popular in hamptons and farmhouse style kitchens.
Now all you need to decide is do you want single or double, under or over mounted, commercial style or farmhouse. Our team can help you match the right style and materials to match your kitchen style.
Let us help you
With literally hundreds to choose from, your experienced Kitchen Craftsmen kitchen designers will be able to help you select the right product for your new kitchen designs. Whether you've decided on laminate, stone or granite benchtops we've got the product to suit your new kitchen.
Visit one of our 5 Showrooms and see why you don't need to shop anywhere else for your sinkware.
Welcoming showrooms
The Kitchen Craftsmen difference is apparent from the moment you step foot in one of our five showrooms. For a start, all our team are experienced designers, who can listen to your desires, needs and budget requirements and transform them into the kitchen of your dreams – from the initial consultation right through to installation.