Cabinet Makers Perth | Kitchen Craftsmen 1300 548 272
At Kitchen Craftsmen, we believe functionality is key. That's why we offer a range of innovative solutions for our kitchen cabinets and kitchen storage solutions, plus a range of cupboard, door and drawer technologies that will add that touch of convenience to your new kitchen.
Our custom cabinets and drawers are available in a range of finishes, designed to complement any design and style. We are proud to feature the latest designs and innovations to ensure your new kitchen is as stunning as it is practical, and remains so for many years to come.
We're not a flat pack kitchen solution but we can build your custom cabinets for you to install yourself if that's what you're after. We'll build and deliver your cabinets to you still and the rest is up to you. But, if that's not for you, we have a number of expert kitchen installers who can help too.
Kitchen cabinets
An organised kitchen starts with well-organised kitchen cupboards. These will not only ensure your kitchen appliances and tools stay neatly hidden away, but also help to prevent any stressful situations by keeping everything you need at hand when you need it.
CABINETS TO SUIT YOUR NEEDS & STYLE
All Kitchen Craftsmen cabinets are designed to promote seamless functionality in your kitchen. A range of materials and finishes are available, from high gloss to matte, making it easy for you to find the right cabinets to suit your budget and style. Just as no two kitchens are alike, nor are our custom-made kitchen cabinets. Speak to one of our master kitchen cabinet makers today at your local Kitchen Craftsmen showroom to see how easy it is to design and build your new kitchen.
Kitchen drawers
For functionality at its best, you can't look past Blum. One of the world's most trusted brands, Blum's range of easy-close and soft close drawer systems are stylish, innovative and highly durable, and designed to complement any kitchen. Along with Blum, Kitchen Craftsmen offer a comprehensive range of top-quality products. So, forget the frustration of disorganised kitchen drawers – with Blum, keeping your kitchen tidy and practical has never been easier.
Along with a wide range of Blum products, Kitchen Craftsmen also offer a comprehensive range of top-quality kitchen drawers by some of the world's leading brands.
The best part is that because your new Kitchen Craftsmen kitchen is custom-made we can build drawers to any size you like. The only limitation is your imagination, our construction team are ready to tackle your project.  Our team of kitchen designers and cabinet makers are all based in Perth, Western Australia, meaning we can deliver your project quickly and efficiently. 
Our team of kitchen designers and cabinet makers are all based in Perth, meaning we can deliver your project quickly and efficiently. To see our full range for yourself, visit your nearest Kitchen Craftsmen
showroom today
.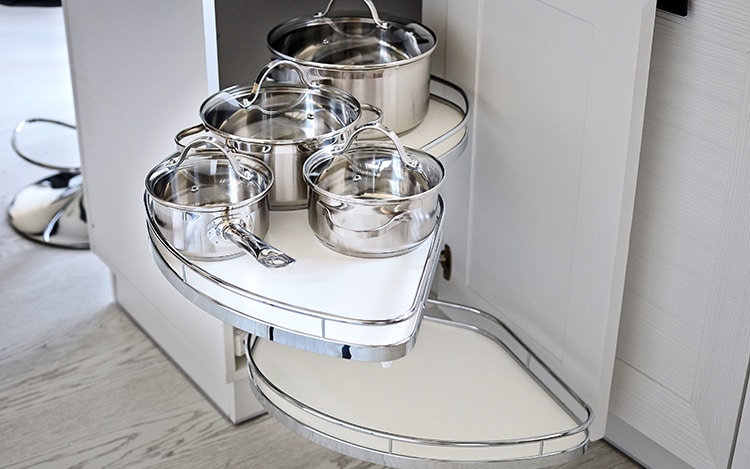 Storage solutions
Just like choosing between kitchen cabinets and drawers is important, so is choosing to add storage solutions to your cabinets. We partner with Hafele to ensure that none of the space in your cabinets is ever out of reach. Got a corner that's deep? No problem, we can help with corner inserts that make accessing that space a breeze. Are your wall cabinets too high to reach? Easy! The shelving lift systems available now mean you can get to those spaces with the push of a button or level.
The technologies available now to make your cabinets to most functional they can be really are the most innovative in the market and our team will happily talk to you through your needs when designing your new kitchen space.
Cabinets for all purposes
Did you know that we can also help with your bathroom, laundry and alfresco renovation? All of our quality cabinets, drawers and storage solutions can be used across any of these rooms and our team will even recommend more options designed specifically for these spaces.
Welcoming showrooms
The Kitchen Craftsmen difference is apparent from the moment you step foot in one of our five showrooms. For a start, all our team are experienced designers, who can listen to your desires, needs and budget requirements and transform them into the kitchen of your dreams – from the initial consultation right through to installation.