Whether you fancy yourself the next MasterChef, or just love to cook and entertain at home, a kitchen scullery could really help you take your kitchen game to the next level. Also known as a butler's pantry, the humble scullery is fast becoming a must-have in many modern Australian kitchens. We think it's a great room to focus on if you're considering building a new home or renovating an existing one. Whether you're after additional storage or just want to hide your mess, a scullery could be the perfect addition to any home.
First things first, though: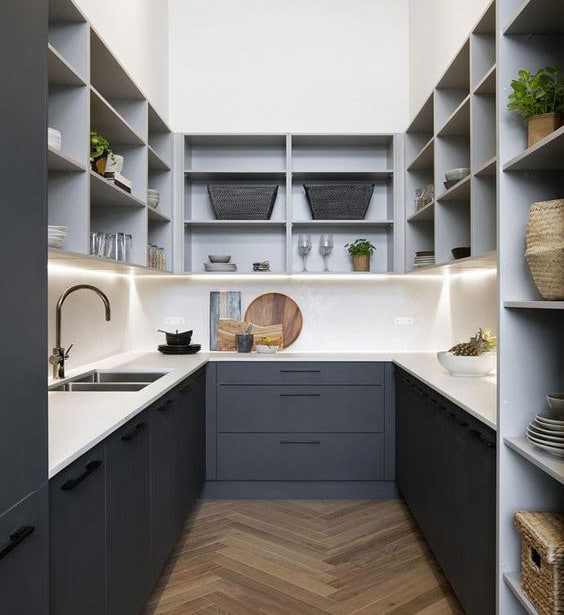 What is a scullery?
t's a strange name for a very clever concept. To put it simply, a scullery is an addition to your main kitchen, which plays a more backstage role. It's a place where you can prepare meals, wash up and basically make a mess – all hidden from the 'main stage'. A scullery can also be used as a storage space (such as a walk-in pantry together with the fridge and other appliances).
Back in the 1800's a scullery, known as a Butler's pantry, was a small space in the kitchen space where the Butler could keep an eye on the silverware, best china and the household management.
But today, it's a great place to hide dirty dishes, or do washing up leaving your main living spaces clean and clear of clutter. Some also choose to use this space to also incorporate a laundry space which is nicely tucked away and out of sight.
The biggest benefit…your messy appliances, food prep and laundry is tucked away and the kitchen is kept spotless.
What are the benefits of including a kitchen scullery?
So many benefits! We touched on a couple above – that a scullery not only provides you some much-needed extra preparation space (even more useful during those stressful holiday periods when you're cooking for the whole family), but also allows you to hide the mess until you're ready to face it later on.
More storage also means you can splash out on that double fridge you've always wanted, or store appliances that once would have taken up valuable benchtop space in your main kitchen. Think your toaster, blender, microwave, bread maker, utensils and even your food – all can now be neatly hidden away behind closed doors.
Taller cupboards in your scullery could even allow you to store non-food items like vases, jugs and big bowls. Leaving you with additional room elsewhere in your home.
The inclusion of a food prep sink allows you to prepare food and clean up in the scullery. The size and shape of your sink could vary based on the size of your scullery but the position is key and must be beside bench space suitable for food preparation.
What types of sculleries are there?
– Walk-in scullery: Ideal for creating an addition to your pantry, or a storage space for appliances.
– A hidden scullery: Complete with a sink, the hidden scullery is the place to hide all the mess that comes with meal prep. It also means you can prepare two meals at once seamlessly, for example using the scullery to prep your dessert while you cook your main meal in the main kitchen (or vice versa).
– A sectioned scullery: Great for the budget-conscious, this type of scullery simply involves closing off (sectioning) a part of your kitchen with folding doors or a screen. This allows you to enjoy a hidden area for food preparation and storage, without it cluttering up your entire kitchen space. This could even be a great DIY project for a long weekend or break from work.
How do I create the best scullery possible? 
 Well here's our tips:
It's obviously important to make sure you have the space. The features you want included in your scullery, the greater the space. If space is limited, you'd be best off making a list and choosing those that are most important to you based on how the space will be used by your family.
Think about how you want your items to be stored, and think food storage first. Do you want open shelving so you can see what's on offer or do you prefer everything to be neatly tucked away behind cabinets. It could be said that open shelving allows you to see what's available and what food items needs replacing. Drawers are also a great option and make getting to your items or appliances a lot easier.
Make this the space for keeping mess out of the main living areas. Add a sink near a food prep area and a dishwasher to keep your dirty dishes out of view. You may wish to also add a dishwasher in your main kitchen which is a great idea if you like to entertain or have a large family.
Bench space is key. Keep your small appliances at the ready and leave room for meal prep or storing of food during dinner parties.
If you can go big then lets do it! The bigger the space the more your scullery is able to become a mini-kitchen space. If you have a large family this is particularly important. Add another oven, fridge, freezer or even a wine fridge to really up your scullery game.
Make sure you choose products, flooring and colours that compliment your kitchen. This space should be considered as an extension of your kitchen space. It doesn't need to be fancy but is probably a space you'll spend a lot of time in so consider continuing the same style.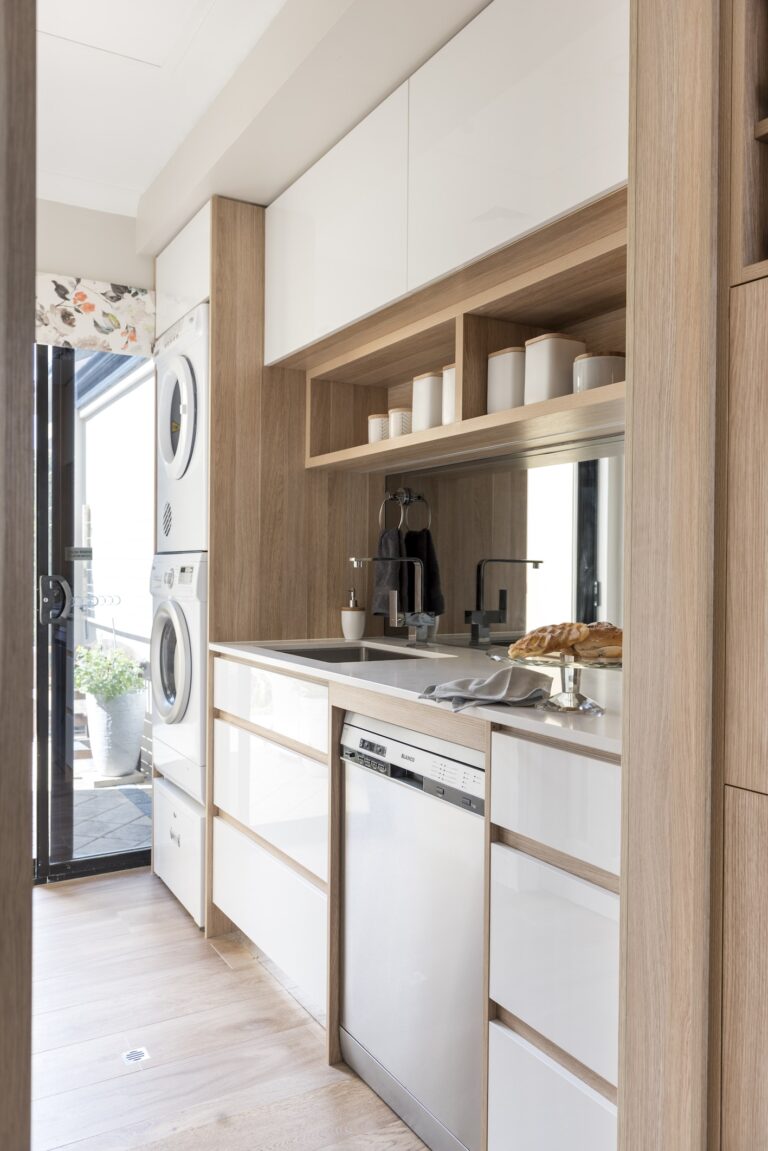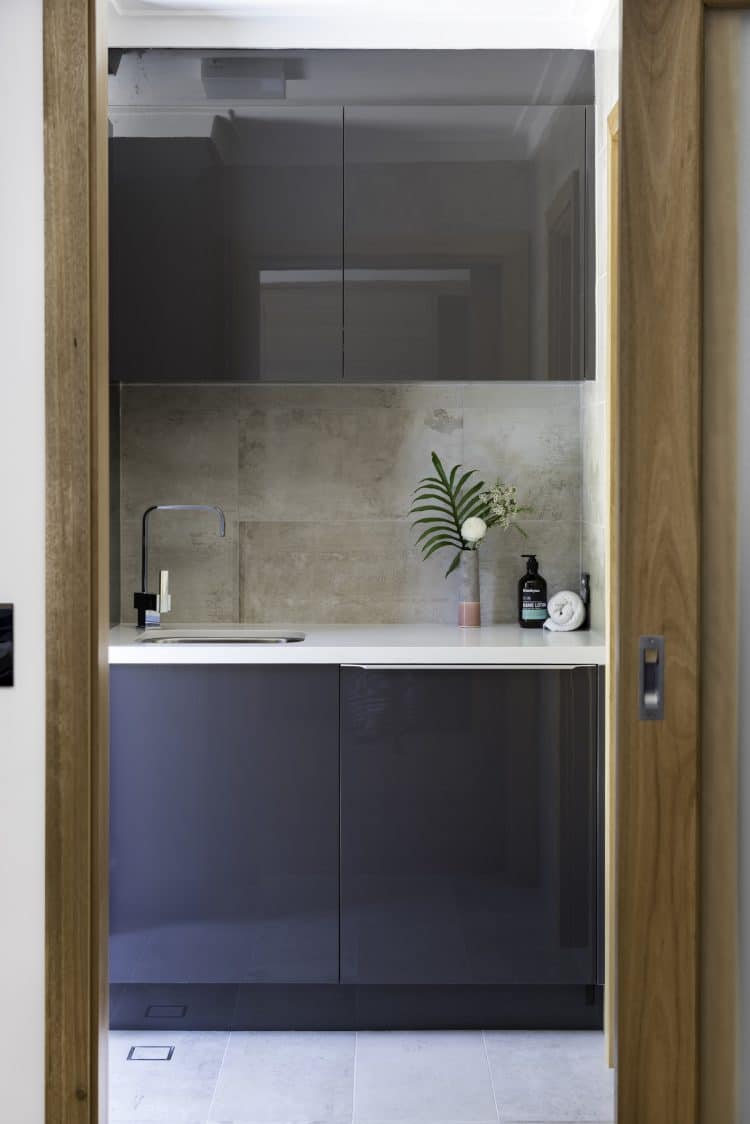 7. Think about how your laundry space may also be included. This is the perfect opportunity to make two rooms one large room and keep all your mess in the one spot. Washing machines and dryers can be built into cabinetry to ensure a seamless look. What a perfect recipe for a great use of space, make a cup of tea in your scullery whilst waiting for your washing to finish.
I
s it easy to create a scullery in my home?
Yes, it is! And, with all the headaches it will save you in the long run (goodbye, clutter), it can really make sense to include a scullery in your new kitchen design.
If you've been thinking about whether or not a kitchen scullery is right for you, why not talk to one of our master craftsmen today about the options to suit your family? Check out some of our previous kitchen design jobs, pop into one of our five showrooms across Perth to chat to us in person, or feel free to contact us now.
Best of all, we've just made including a scullery even more affordable, with our latest offer – allowing you to save on your brand-new custom-made kitchen or scullery.