The new year is fast approaching which means it's our favourite time of year for new trend predictions. The past couple of years have opened people's eyes to the central role the kitchen plays in the home. The importance of having a multi-purpose kitchen has increased as we continue to spend more time at home. We've got decades of experience in custom kitchen designs incorporating personality and functionality to increase the value of your home.
From eco-inspired spaces to bold colours, we've put together the predictions for the top kitchen trends in 2022 to help you plan your kitchen renovation.
Minimalist Kitchens are Here to Stay
Minimalism is not going out of style any time soon. Every decade, minimalism means something new and, depending on the age of your home, your minimalist kitchen can look quite different. A mid-century modern kitchen with a minimalist style will use entirely different materials and colours than a brand new home.
Sleek minimalist kitchens maintain the cleanest possible lines while hiding any elements that don't sit parallel or perpendicular. Choosing a base colour and sticking to this for all elements makes a strong statement. This style of kitchen eliminates superfluous decorations and unnecessary detail but maintains function with integrated appliances and hidden storage.
Two innovative minimalist kitchens completed by the Kitchen Craftsmen team recently are shown here.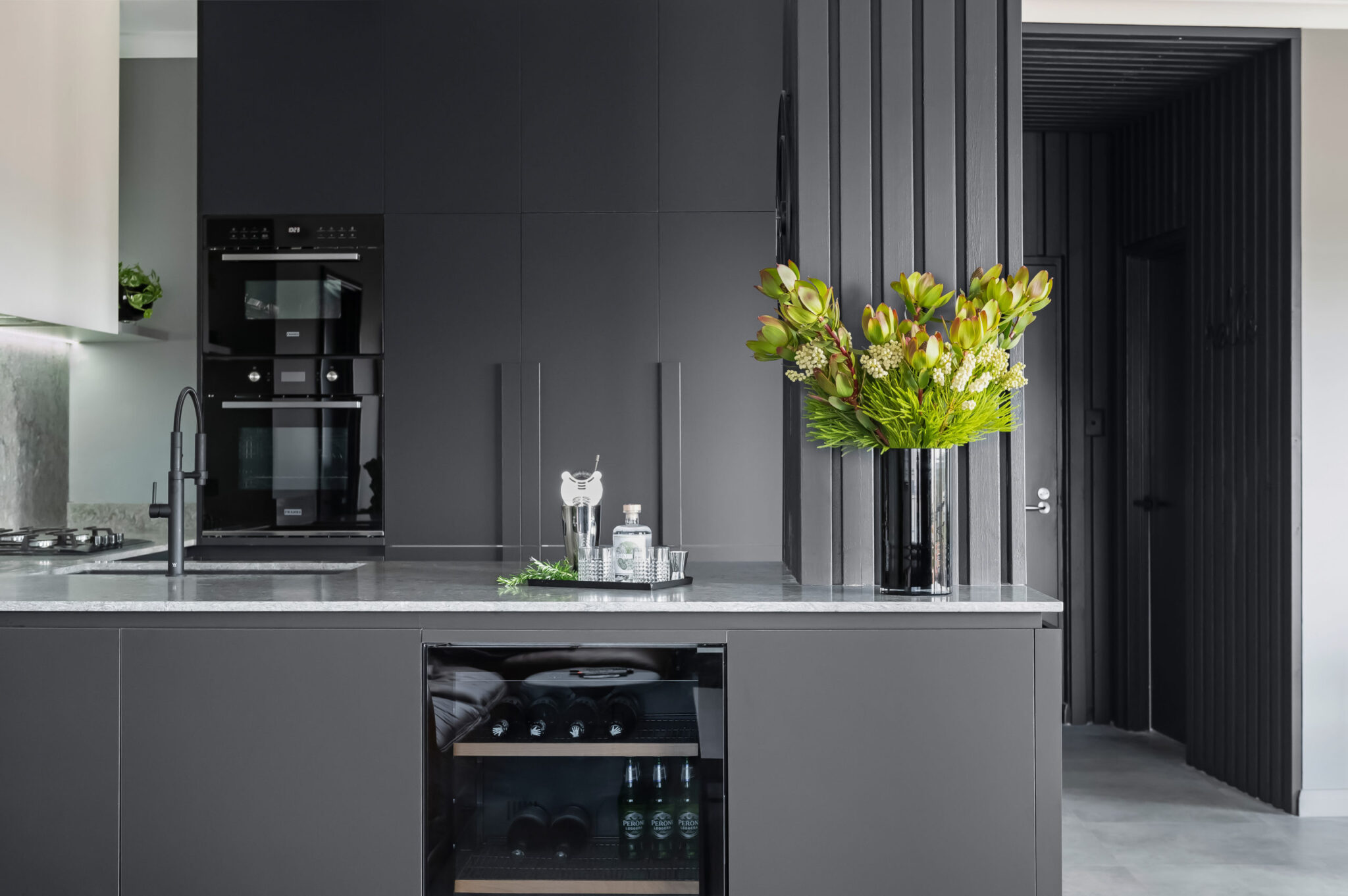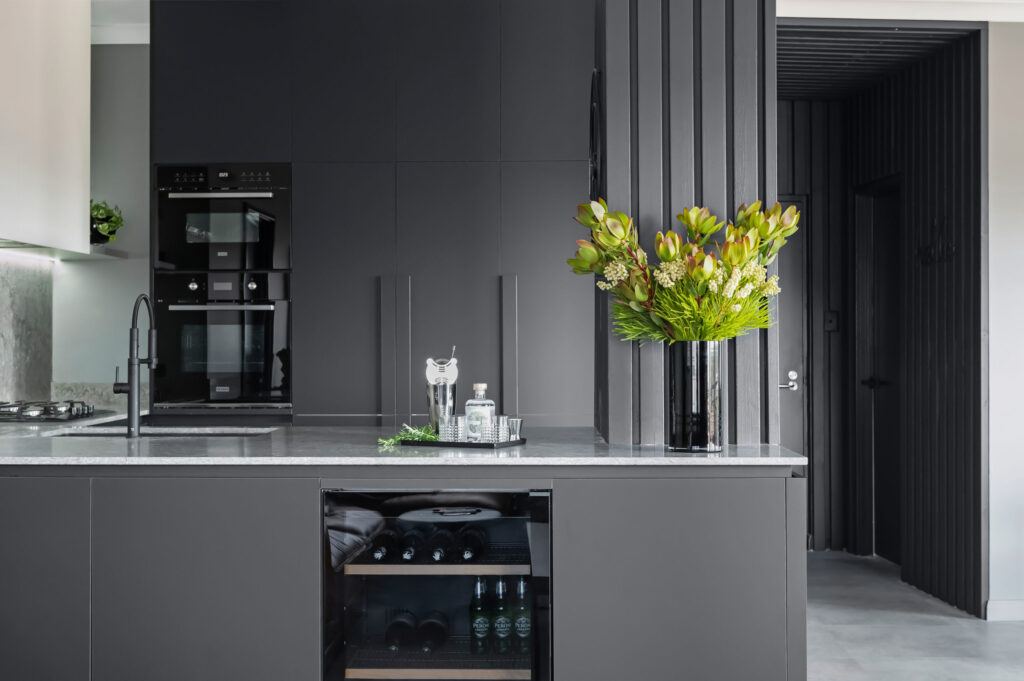 The all-black kitchen is becoming increasingly popular, and we can see why. Our designer did a fantastic job incorporating pops of colour against an-all black colour scheme to create a sleek and sophisticated vibe, for this stunning kitchen. Black kitchen designs are, by nature, a more dramatic style choice. It's a colour that demands to be noticed. The use of Caesarstone Turbine Grey benchtop and splashback compliment the Polytec Evolution Black Venette & Blossom White Venette cabinetry beautifully and create a cool, calm and versatile space.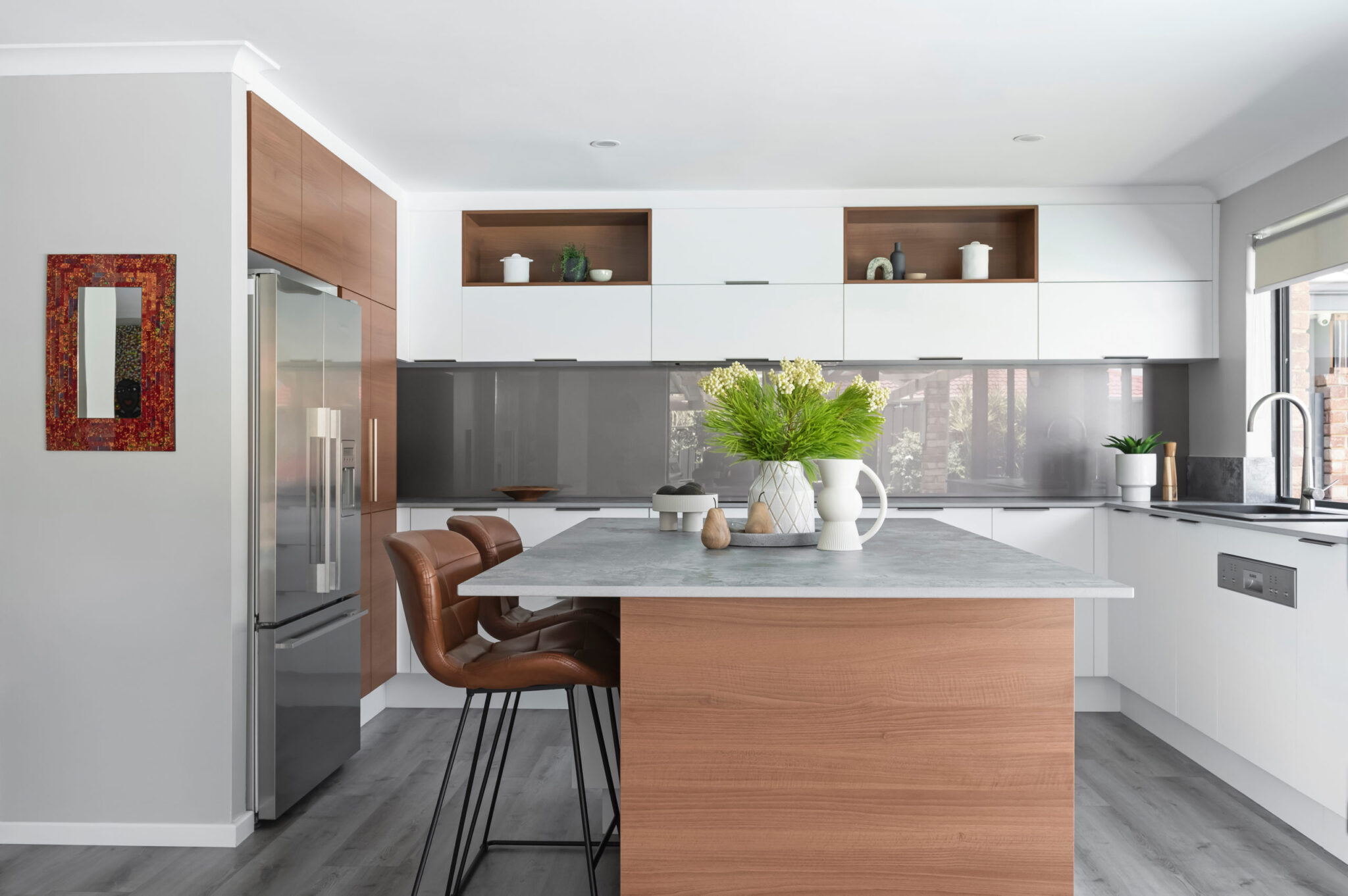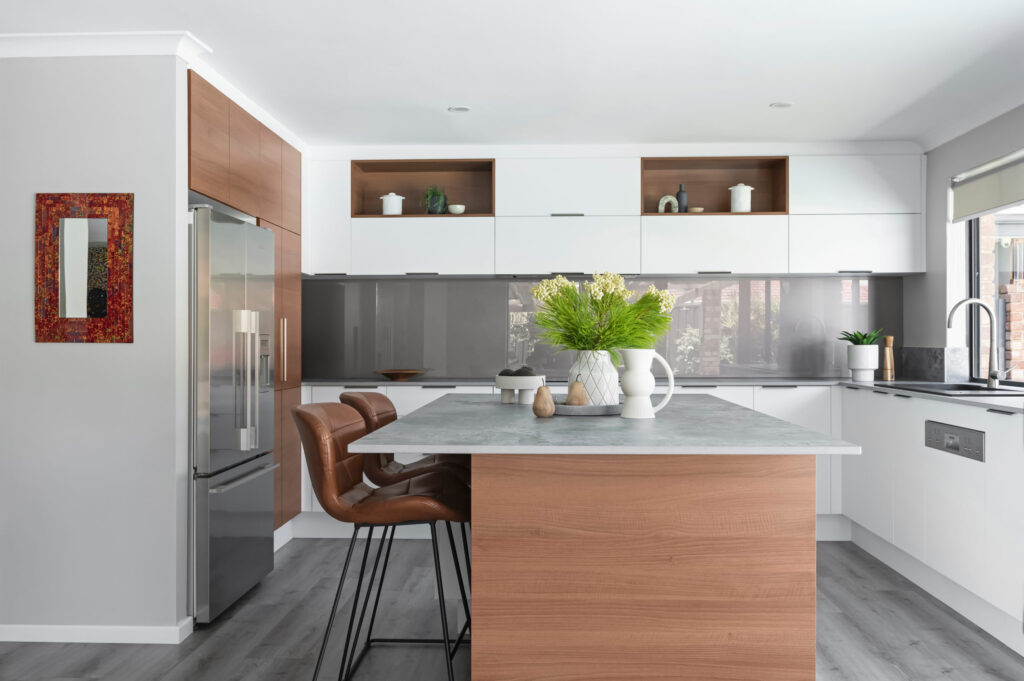 The colour combos in this kitchen are a match made in heaven! Our designer Marco has blown us away once again with the flawless integration of elements and colours to form a cohesive look and bring this client's dream kitchen to life.
The matte Polytec European Walnut doors stand out against the Polytec Crisp White Legato cabinetry. We love the use of the Dekton Orix colour for the benchtops and the Starry Night Metallic used for the glass splashback. These add an extra dimension to the kitchen sparking interest and giving personality to the kitchen.
If you want to hop on this trend and design a minimalist kitchen in 2022, it's important to follow the two guiding principles of minimalist design: Less is more and focus on functionality.
Sustainable Kitchens are Making a Comeback
The eco-inspired kitchen design trended on Instagram and Pinterest in a big way in 2020. As we enter 2022, going green is becoming less of a trend and more of a lifestyle choice, making eco-friendly kitchens more popular than ever. The key to a sustainable kitchen is to highlight natural materials through the use of neutral colours, earth tones and simple, calming finishes. Start with wooden cabinets and furniture, timber cupboard doors and glass and metal accents. Take advantage of any natural light and bring elements of nature inside by incorporating plants.
Eco-friendly kitchens don't stop at their design. Investing in energy-efficient appliances, buying pre-loved or restored furniture, opting for LED lighting, and the use of sustainable materials will help you lower your kitchen's carbon footprint and create an eco-friendly space.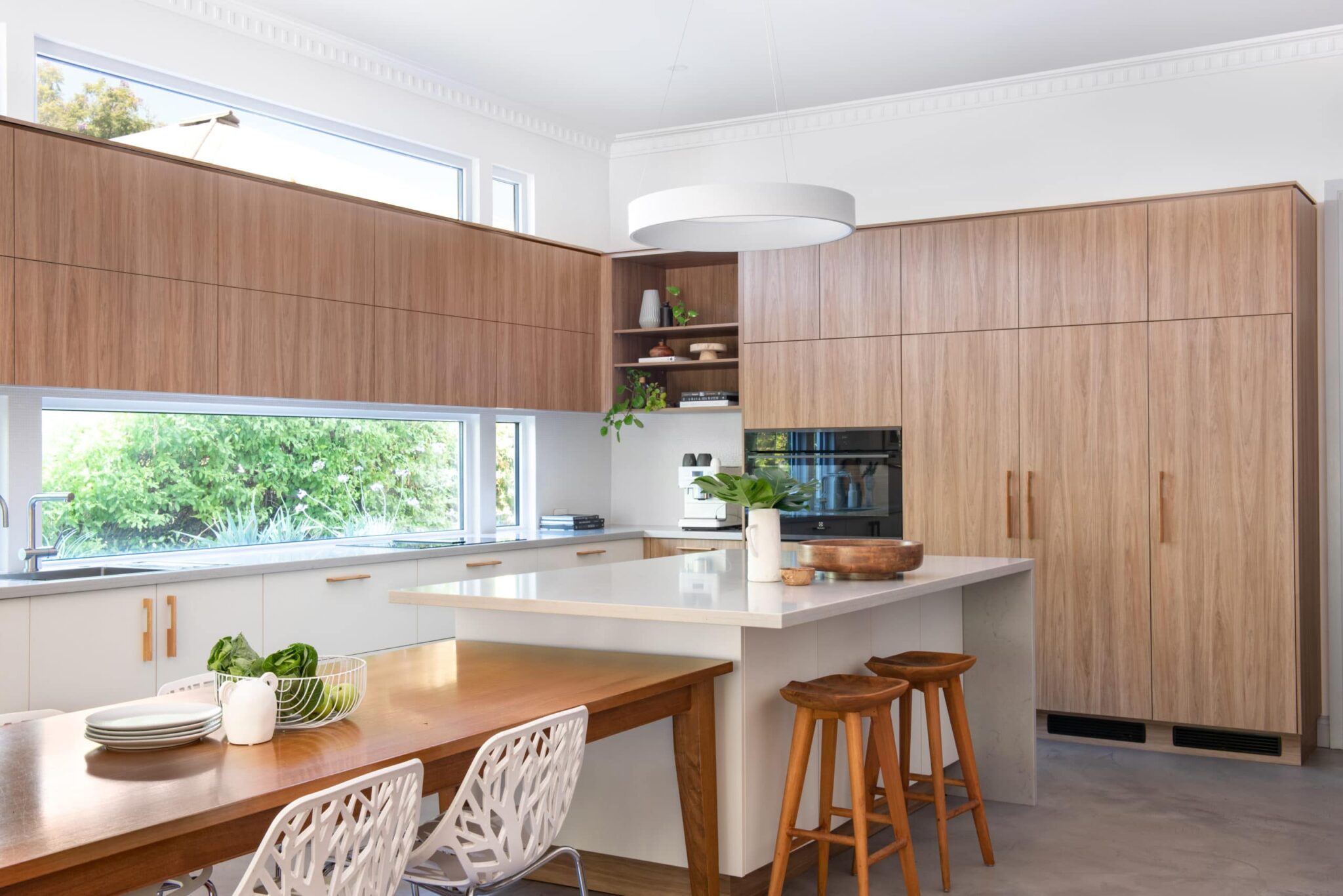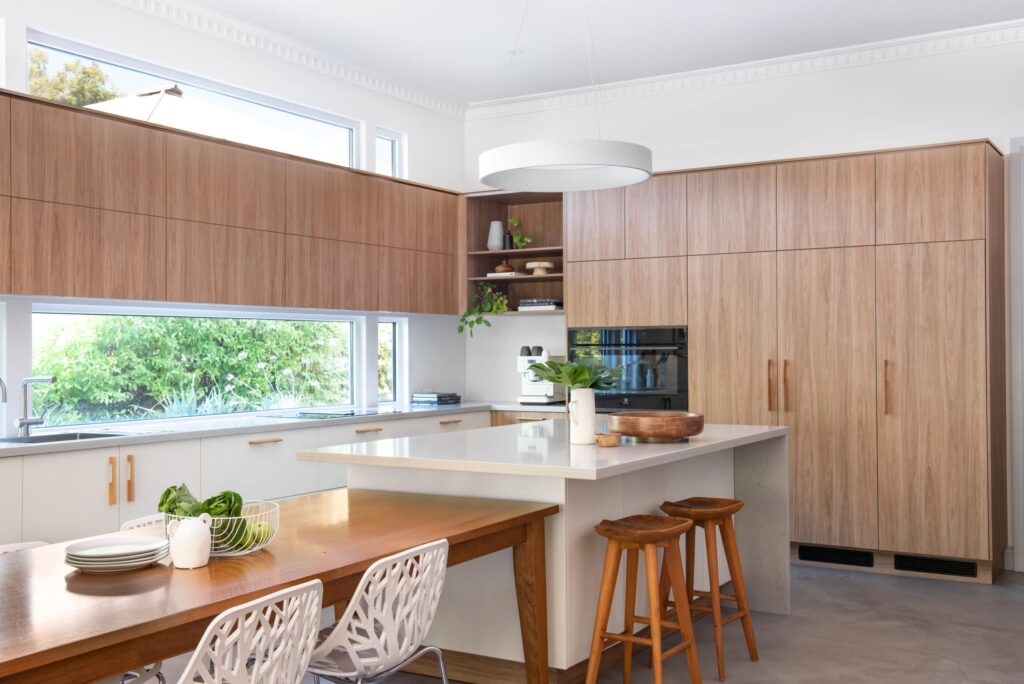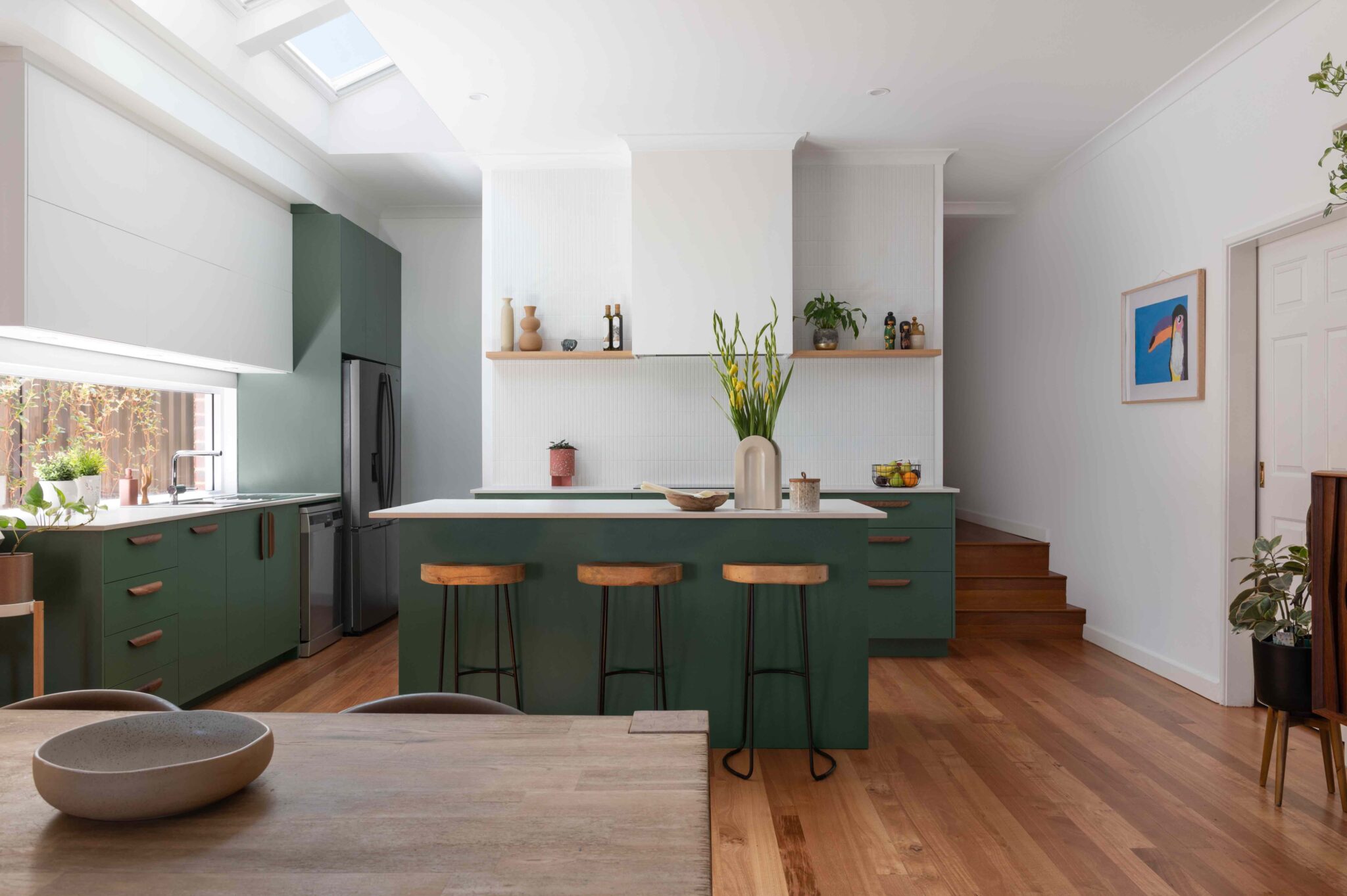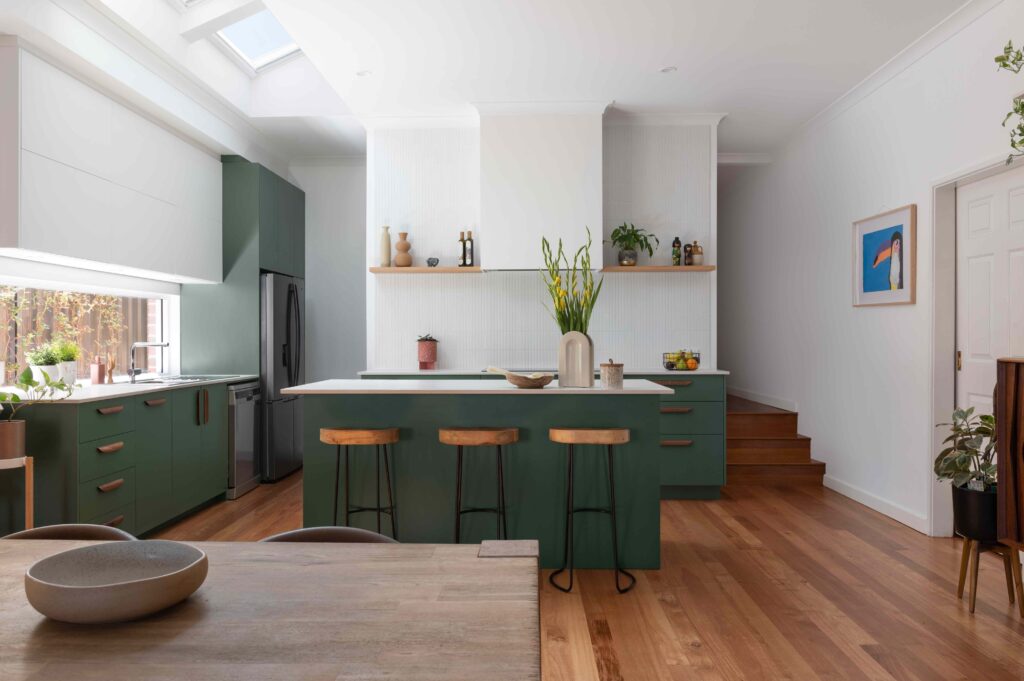 2022 Kitchen Renovation Colours
Using bold colour can be a challenge but you can master this design by mixing darker hues with complementary lighter shades that will add depth and dimension to your space.
If you're hesitant to use colour after years of all-white kitchens and neutral colour palettes trending – don't be. While white is still a classic colour for kitchens and is unlikely to ever go out of style, there has been a shift towards adding bold pops of colour with colour being predicted to be more prevalent in kitchen design in 2022.
Green is the colour set to replace navy and take kitchens by storm. You can also expect more yellows and burnt oranges set against moody blues or light whites. Colour is a great way to bring joy and excitement to your kitchen space and incorporate your own style and personality into the space, so don't be afraid to be bold.
2022 Smart Home Trends and Kitchen Innovations
New kitchen gadgets are announced every year, and while we all want to HAVE them, we don't want to SEE them. The trend of hidden appliances will continue in 2022. Cordless, handle-less, touch-to-open and hidden items will be popular. Integrated appliances allow you to get a streamlined finish without sacrificing style – no matter the look of your appliances.
If you haven't already investigated downdraft extractors, you'll love them. These little hideaway extractor fans remove water vapour and cooking odours more efficiently, as the particles have no time to permeate the air before they are removed directly from the air off the hob.
A smart home is a connected home and 2022 will also see a rise in appliances with touch-control screens, Wi-Fi connectivity and voice control operating systems.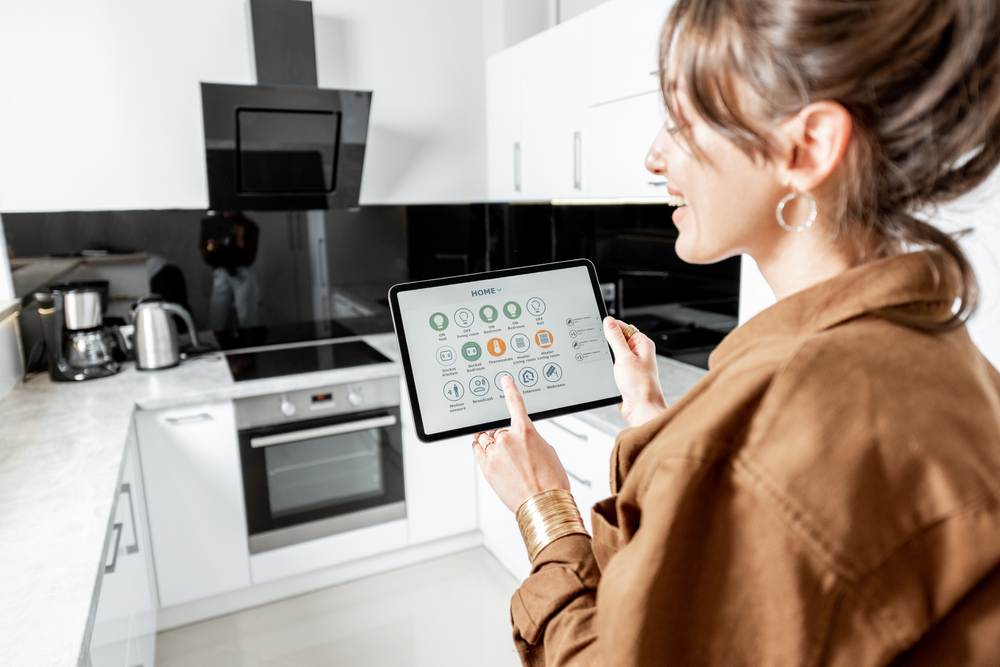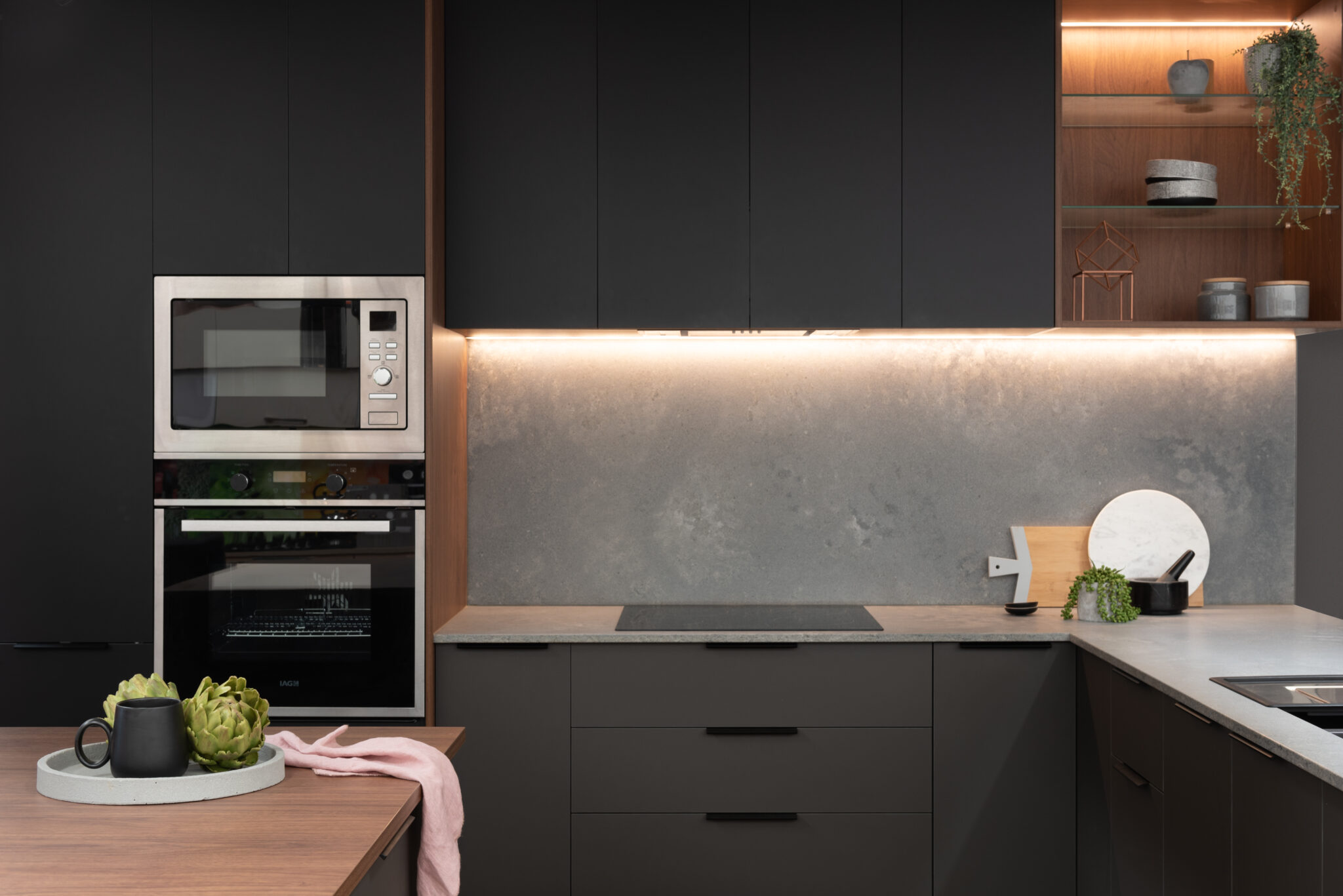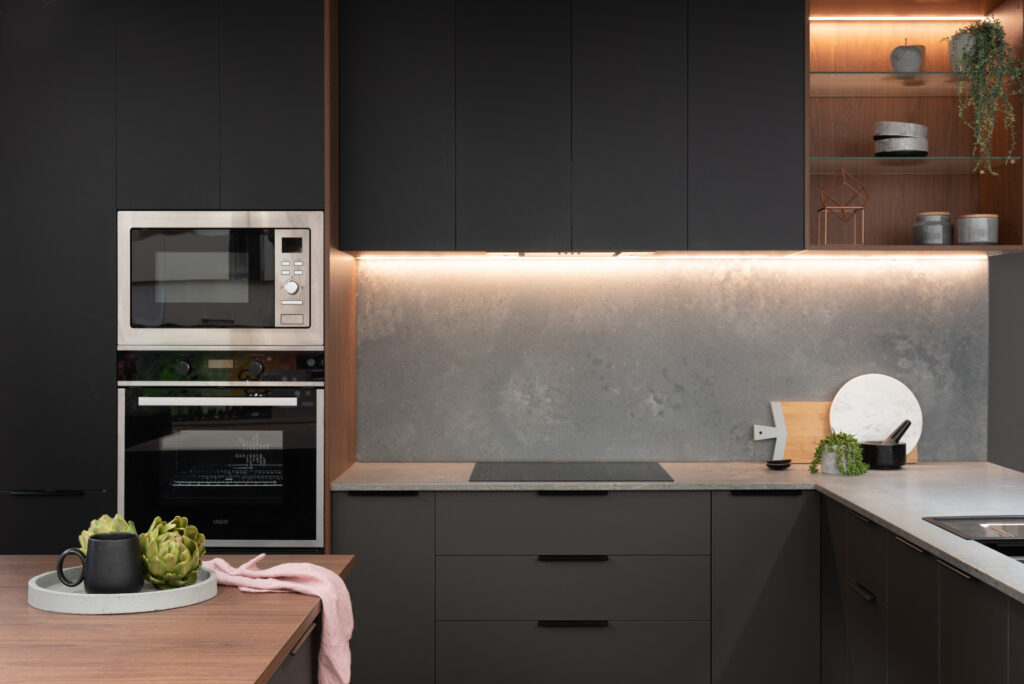 What To Avoid
White tiled countertops and splashbacks have graced our kitchens for years now, but in 2022 they might be reaching their expiry date – for now at least. While white tile countertops are affordable and genuinely impressive, they are demanding to clean and experts believe there will be a shift away from this trend for the foreseeable future. If you don't want your kitchen to be labelled as outdated consider countertops and splashbacks made from slab, natural stone, marble or textural feature tiles which are predicted to dominate in the upcoming year. Green, patterned and terrazzo splashbacks are also predicted to be major in kitchens in 2022.
If you're inspired to update your kitchen, and incorporate the predicted trends, we can help you design the kitchen of your dreams – contact Kitchen Craftsmen today to learn more!