At Kitchen Craftsmen, we're all about the 'Gram lately. After all, it's hard not to get a little obsessed with this social media staple, with so many hashtags to discover and so little time to do so. With so much to see, it's easy to get lost down the Instagram rabbit hole and somehow lose a few minutes (or hours) of your day! With this in mind, we've come up with our list of the best kitchen Instagram accounts for renovation ideas or inspiration, to help save you a little time.
Ready for a little kitchen inspo? Let's get started. In no particular order:
Better Homes and Gardens
From mouth-watering recipes to stunning kitchen designs, style advice and much more, Better Homes and Gardens is a great place to be inspired for your next kitchen project, or simply pick up some tips to enhance your current space. 
American: @betterhomesandgardens Australian: @bhgaus
Polytec
A list of our favourite kitchen Instagram accounts wouldn't be complete without including our partner Polytec, one of Australia's leading distributors of decorative surfaces for joinery applications. Their dreamy feed showcases many kitchen renovations featuring their high-quality finishes! @polytec
Winning Appliances 
If you haven't discovered this feed, from one of Australia's leading kitchen and laundry appliance specialists, you'll love the array of home and culinary inspiration. Not to mention the great deals they regularly share on a range of appliances! @winningappliances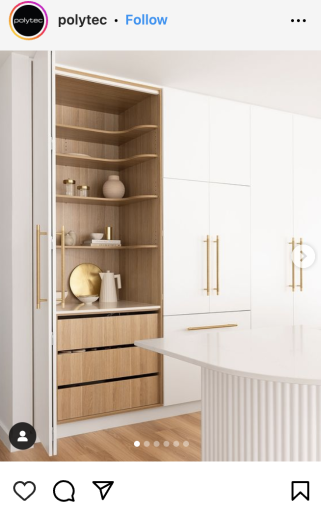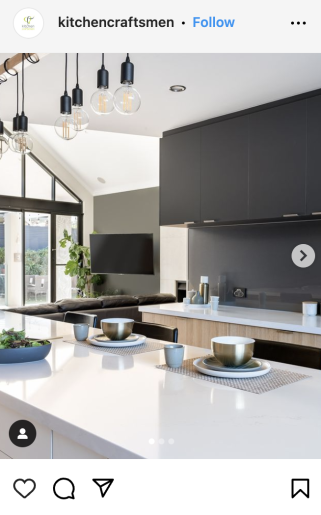 Kitchens of Insta 
Just like its name suggests, this page is all about kitchens, with every style and size on display. It's definitely the place to go for ideas (or just a little kitchen envy). @kitchens_of_insta
Kitchen Design Network
 From the latest tapware and fixtures, right through to sculleries, dining spaces and kitchen designs galore, Kitchen Design Network is definitely a great place to spend some time exploring. @kitchendesignnetwork
Interior Delux 
From rustic designs, right through to today's ultra-modern kitchens with all the trimmings, Interior Delux is crammed full of style and design ideas for every home. @interior_delux
Homes To Love Australia 
An Instagram page featuring all the best from Australian House & Garden, homes+, real living and Belle, this is the place to be to find Aussie-themed interiors, design tips, decorative advice and so much more.@homestoloveau
Kitchen Craftsmen 
Okay…so don't think we're being a little arrogant by including ourselves on our must-explore kitchen Instagram list. After all, we are newbies to the Instagram scene, but we're quickly making up for that! Follow our page for all the latest Kitchen Craftsmen promotions, giveaways and kitchen inspiration. @kitchencraftsmen