Right now we're all spending much more time at home, which results in us spending more time in our kitchens. Whether it's preparing meals, making coffee or stealing a quick snack when nobody's looking. Your kitchen should be a place where you feel inspired, comfortable and happy – and choosing the right colour scheme can really help to make this happen. But if you're not the sort of person who likes to commit to a colourful kitchen there's options for you too, because we all know a change can sometimes be as good as a holiday.
With that in mind, here are 5 ideas to add some colour to your kitchen.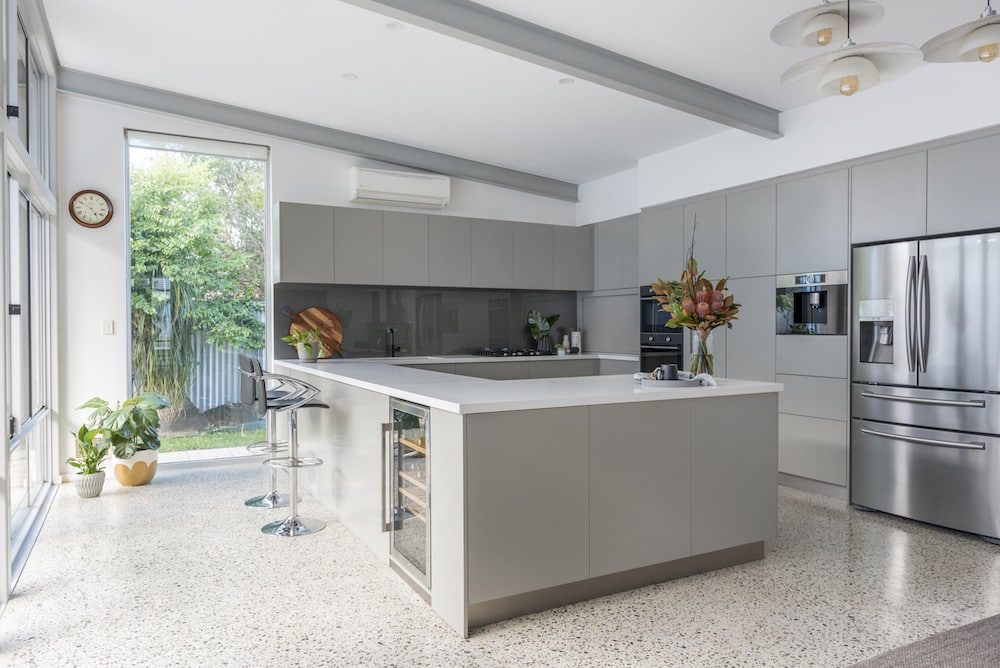 1.
Brighten up and put personal style into a neutral kitchen
Want to add a little more character to your kitchen, but don't want a long-term colour commitment? No worries. Instead, make time to accessorise! Choose a colour palette that works well with the neutral surrounds, and start picking out some statement pieces. Think about pieces like rugs, lights, plates, soft furnishings…the list is endless! You'll be surprised what a huge impact this can make to your kitchen.
Don't be afraid to be bold with your colour choices or to mix and match colours that you might not think work together if that's what you like. It's your space and the perfect part is that you can change it if you get sick of the colours.
2.
Add colour with benchtops and splashbacks
Nothing adds personality to your kitchen quite like a colourful benchtop or splashback. After all, these are focal points – so why not make them stand out? At Kitchen Craftsmen, we offer a number of designer kitchen ranges boasting painted glass, a variety of benchtop colours and designs and so much more!
Plus, we can now create you a custom splashback using any image or pattern you like. Want your kitchen to feel like you're at the beach, no problems lets print you a splashback of the waves coming in at Cottesloe Beach. Love a geometric pattern and want to make a statement, easy, our Joondalup Showroom has an example of how that could look. The possibilities are only limited by your imagination so start dreaming now.
View our kitchen photo gallery to see how some of our customers have successfully incorporated colour into their kitchens.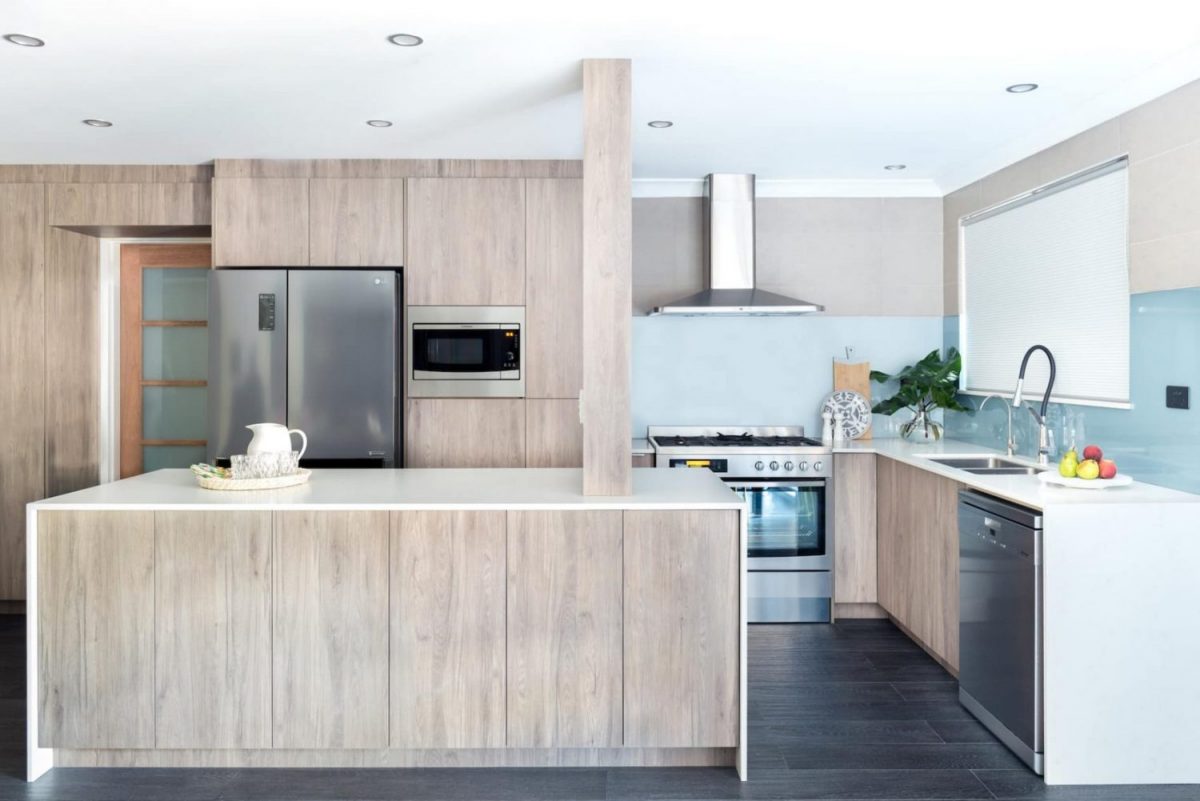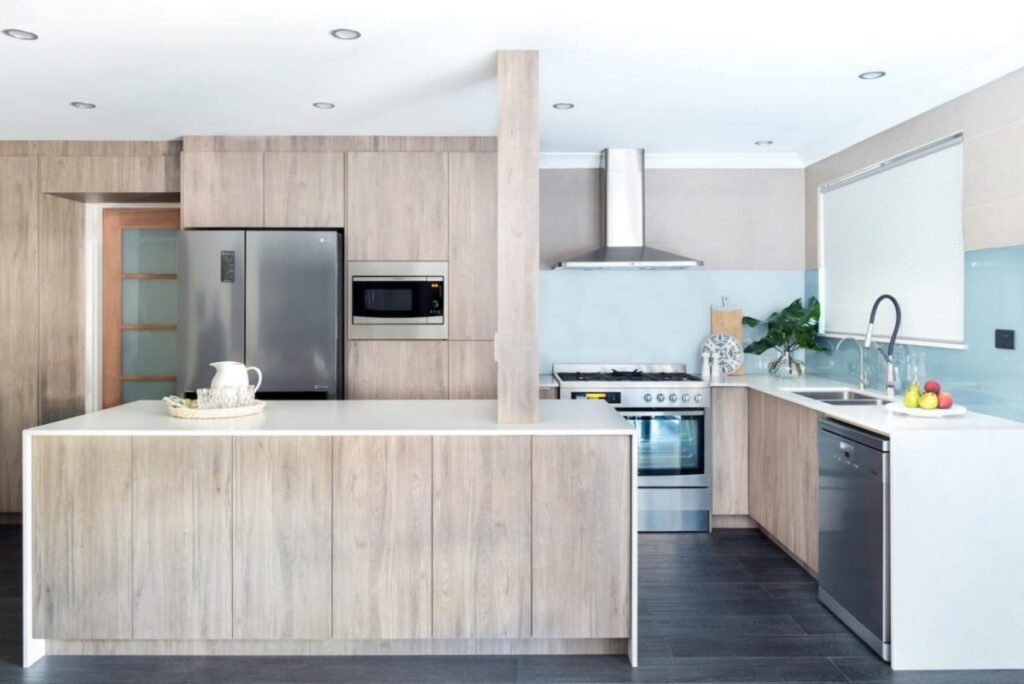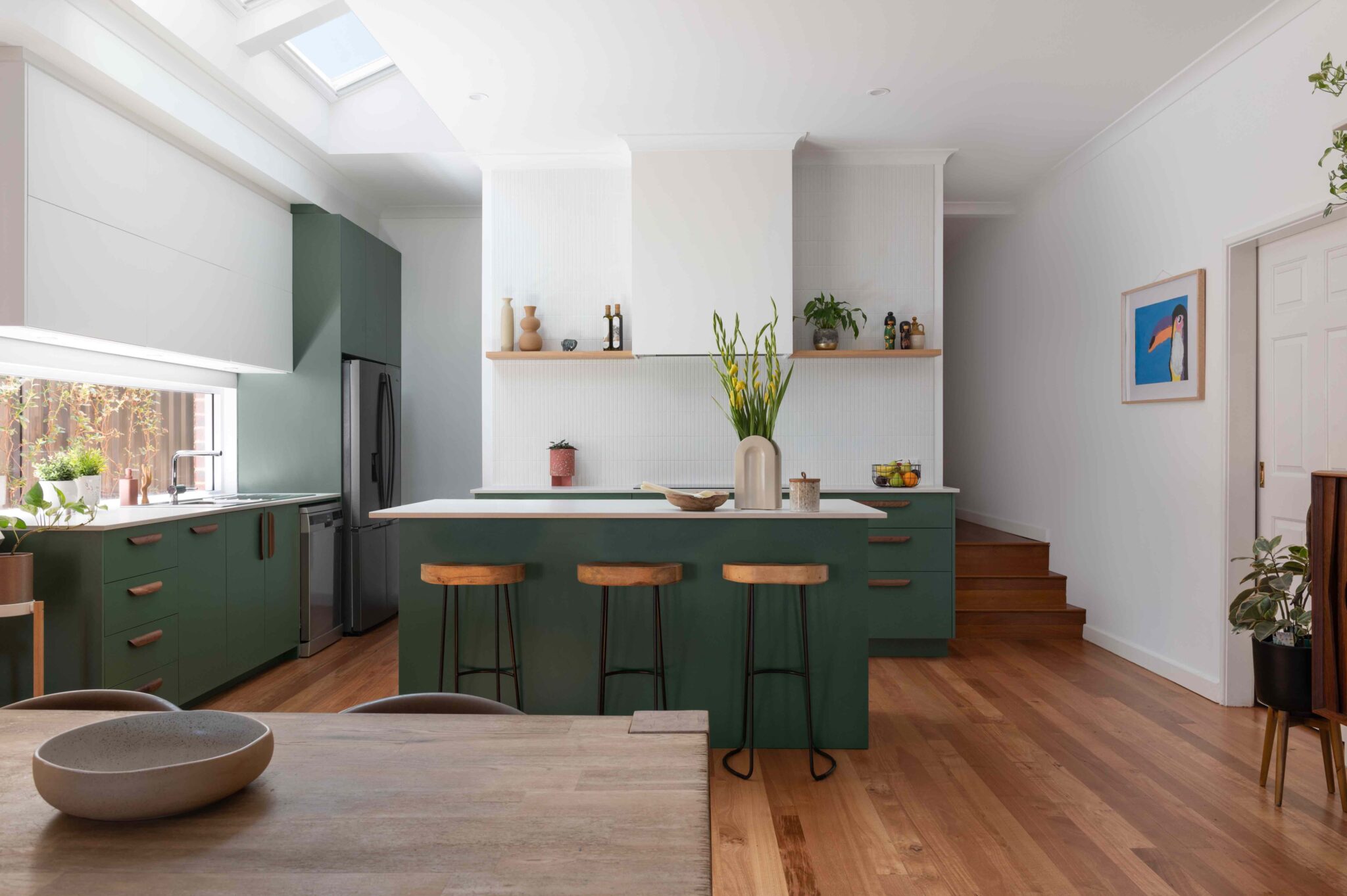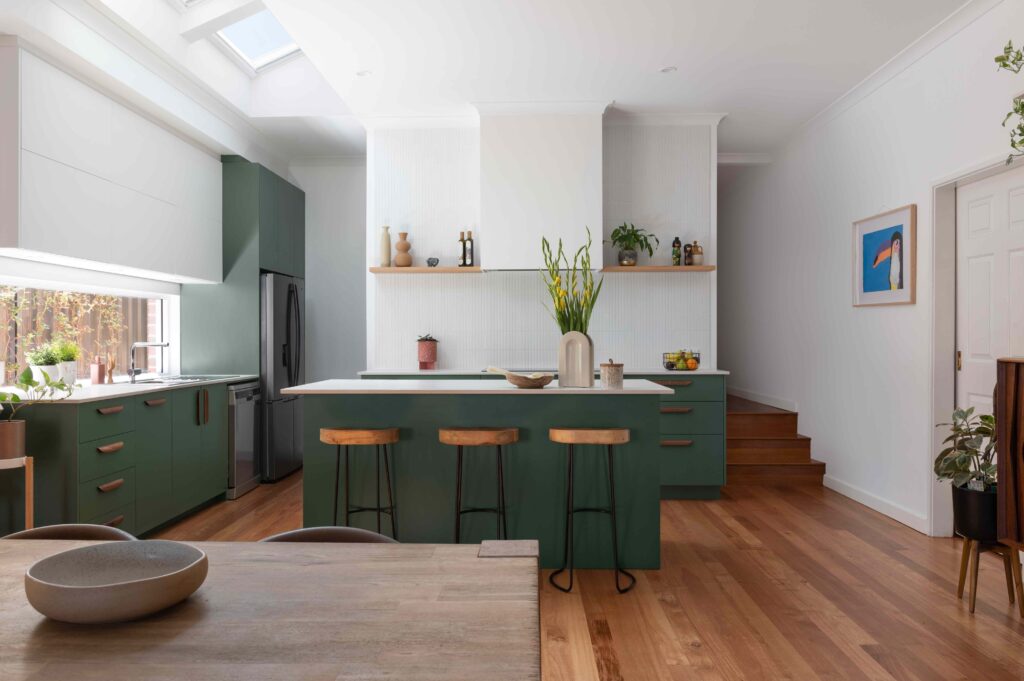 3.
Colourful cabinets
It's not just your benchtops and splashback that can add colour to your kitchen – your cabinets are a great place to start, too! Luckily, Kitchen Craftsmen has everything you need. Love the rich tones of wood prints, or the elegance of real timber? You'll find plenty of options in our designer kitchen ranges. Wood cabinets not only add colour to your kitchen, but also add a real sense of warmth and style.
Want to make a statement with coloured cabinets? No problem! Kitchen Craftsmen also offers a huge range of stunning colours and materials to help your kitchen cabinets achieve the eye-catching effect they deserve.
From neutral tones to bright bold colours, we can work with you to ensure the colour is exactly what you've been looking for.
Ever thought about switching your benchtop and cabinet colour on your island? It's a trend we're seeing a lot of overseas and can create a real statement if your kitchen space is large enough to include a freestanding island. In your main kitchen area you might have grey cabinets and a white benchtop whilst the island will include white cabinets and a grey benchtop.
Check out some of our kitchen photos for some inspiration.
4.

     

Add a coat of paint
This may seem a little self-explanatory, but there's really nothing quite like paint to freshen up a space and give a real sense of individuality to your kitchen. Better still, it's something you can change easily enough, if, in a few years, you want to try something new. Make sure to do your research before grabbing the paintbrush, and grab plenty of paint swatches to see how they'll work in your space.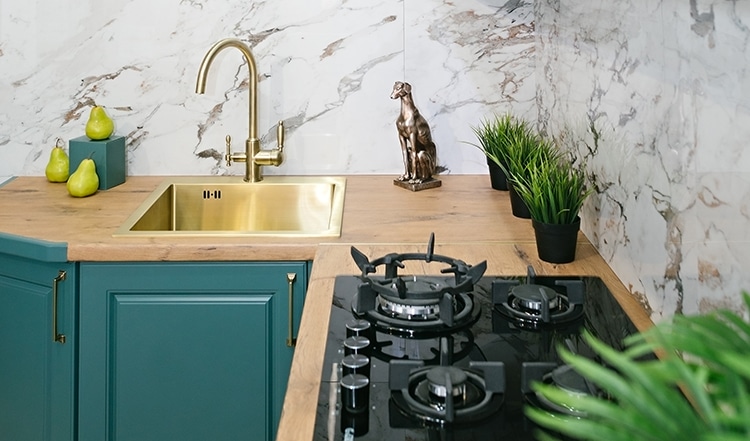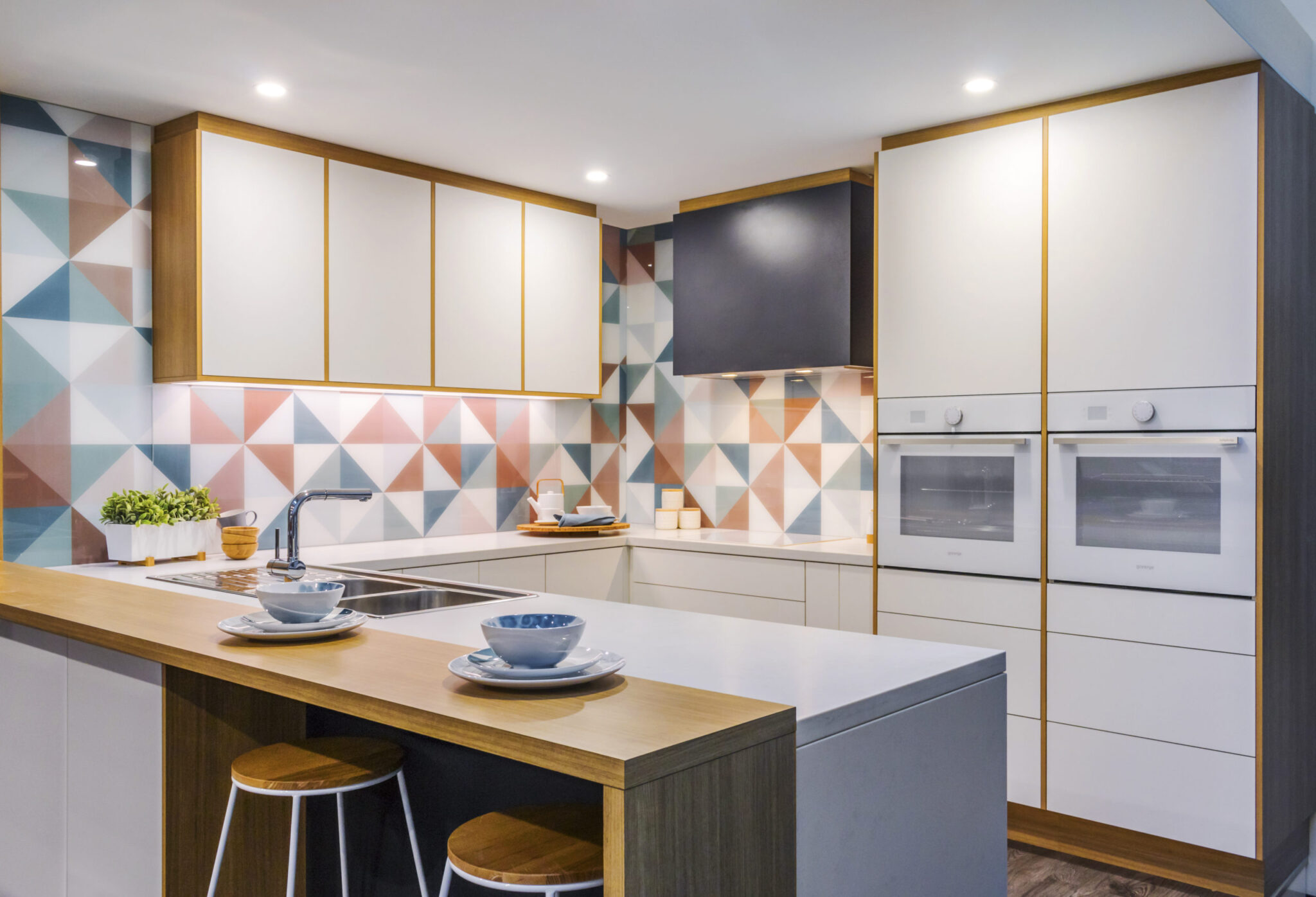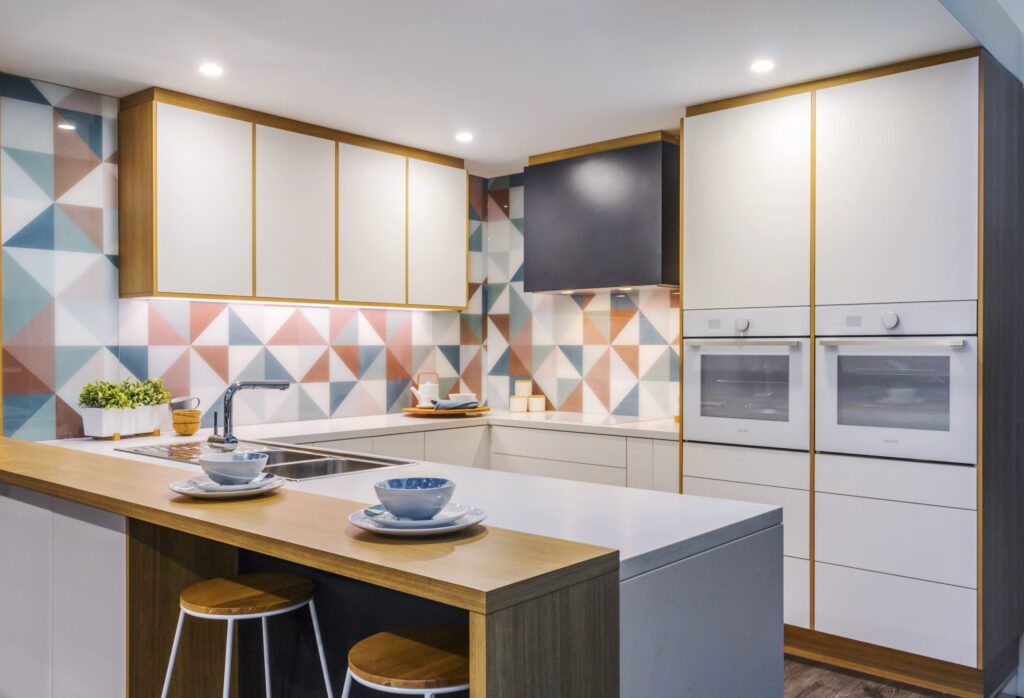 5.
Colourful appliances
From kettles and toasters to ovens and fridges, colourful appliances are making a real statement in kitchens all over Perth. If you're interested in adding colour with appliances, we suggest starting off small and building up your collection from there. Even one or two statement pieces can make a huge difference, especially if the rest of your kitchen is neutral. Why not give it a go in your kitchen today?
There are plenty of other ways to add colour to your kitchen, but we hope we've given you something to think about! If you'd like to talk more about ways to bring in some colour in your kitchen, why not talk to one of our experienced designers today, visit your local Kitchen Craftsmen showroom or book an online appointment.