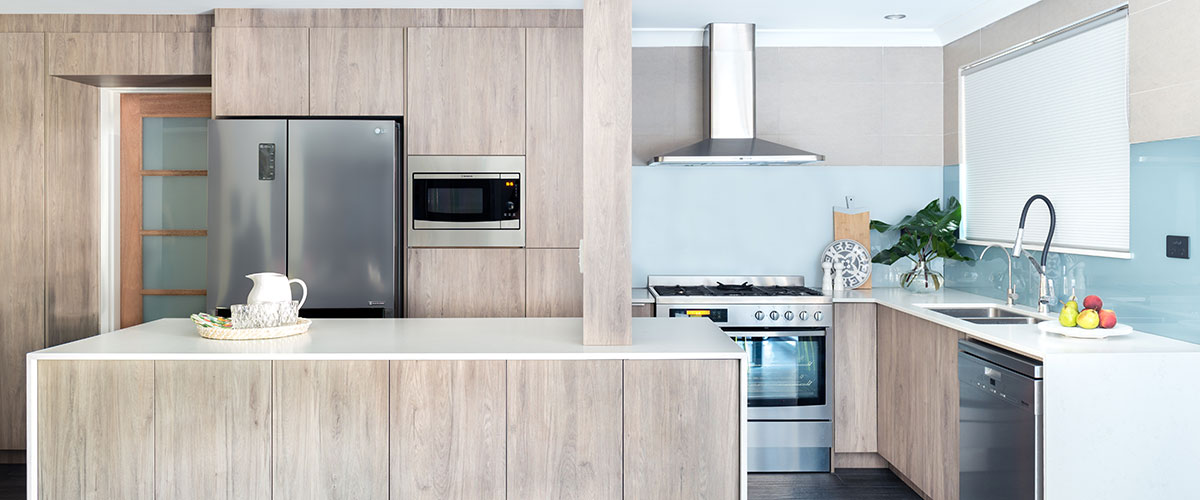 Kitchens come in all shapes and sizes, but it's the shape that determines how well your kitchen area works for you. A good place to start is with your zoning priorities. Do you want an area for casual entertaining? A working area that you can use as a place to supervise kids' homework while you cook? Do you want plenty of storage? Efficient cleaning up space?
Our friendly Kitchen Craftsmen team have all the answers and helpful advice you need to manage your kitchen layout ideas, like how to set up your sink-cooktop-fridge work triangle. Pop in and chat to them, and consider which of these common shapes may be best for your beautiful new kitchen.
---
U-shaped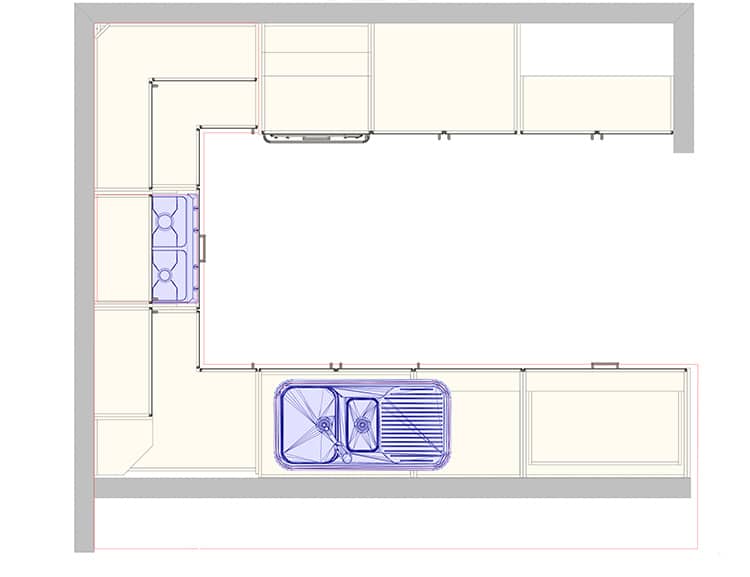 This makes use of three walls or cabinet sections, giving you substantial storage space. When designing a kitchen The U-shape is a great option for families who spend time together in the kitchen. It works well as a separate area, or within an open plan design. You'll have a good deal of benchtop space, and often a convenient breakfast bar too.
A U-shaped kitchen can however feel more cramped than some of the other kitchen layouts. Corners may restrict movement, and make corner cupboards a little more difficult to access. Unless your U-shaped kitchen is very large, it won't easily accommodate an island bench. If it's very large, your work triangle is spread out.
If you don't have a larger kitchen, there is always a solution. Our team can talk to you about some of the innovative cupboard solutions that will suit your kitchen design, like the Hafele lazy susan solution.
---
L-shaped
For today's contemporary homes and lifestyles, the L-shaped kitchen is a great choice as it only uses two walls, creating a great open plan space. You can add an island bench or even a casual table and chairs – perfect for those who love to cook and socialise. An L-shape transforms your kitchen into a relaxed hub, and is ideal for a corner space, and for open plan living. It makes an excellent layout choice for smaller homes and apartments.
Some people find an L-shape inconvenient with the placement of

 
sink, cooktop and fridge creating extra walking between them. If workspace is a priority, you will need to add an island bench which will allow you to create a work zone by giving you extra bench space and storage, but this may not suit your cooking or entertaining style.
---
Galley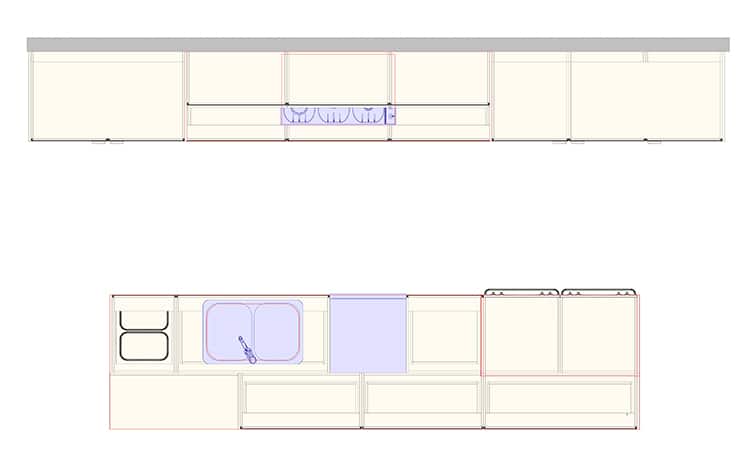 This layout is hands down one of the most functional. Today's modern galley kitchens maximise space very well, so your small or medium sized kitchen can feel bigger with one side opened up to provide seating space and a connection to the rest of the home. The galley layout means you have the shortest, fastest access to everything, creating a smooth workflow. Appliances can be well integrated with your benchtop space, and all cupboards effortlessly accessible. It's no surprise most chefs prefer to work in this layout!
For some people, the compact design and size can be a drawback. While it's efficient, you may prefer to have more space to move around and interact with family and friends while you cook or entertain. And you may require more storage and counter space. A small island on wheels can add space to a galley kitchen, however it requires enough room to move around it which will need to be considering when designing the kitchen floor plan.
---
Single-wall

This format is perfect for small spaces and apartments. With all your appliances and cabinetry built along just one wall, space is very efficiently used. Designs are innovative with many clever storage solutions using vertical drawers. A single-wall kitchen is popular when paired with an island bench for more food prep and entertaining space. It's not designed for a traditional work triangle, and it suits plain, basic cooking styles.
Single wall kitchens are best known for their compact size and can sometimes also be found to house the washing machine in smaller apartments.
---
As you can see, there is a LOT to consider when it comes to the format of your kitchen! We encourage you to think about the way you like to cook, socialise and entertain, as this defines your ideal kitchen layout. You don't have to work it out on your own though – visit one our five Kitchen Craftsmen showrooms and talk to one of our friendly experts. They can design a beautiful, modern kitchen that's all about you and your lifestyle.