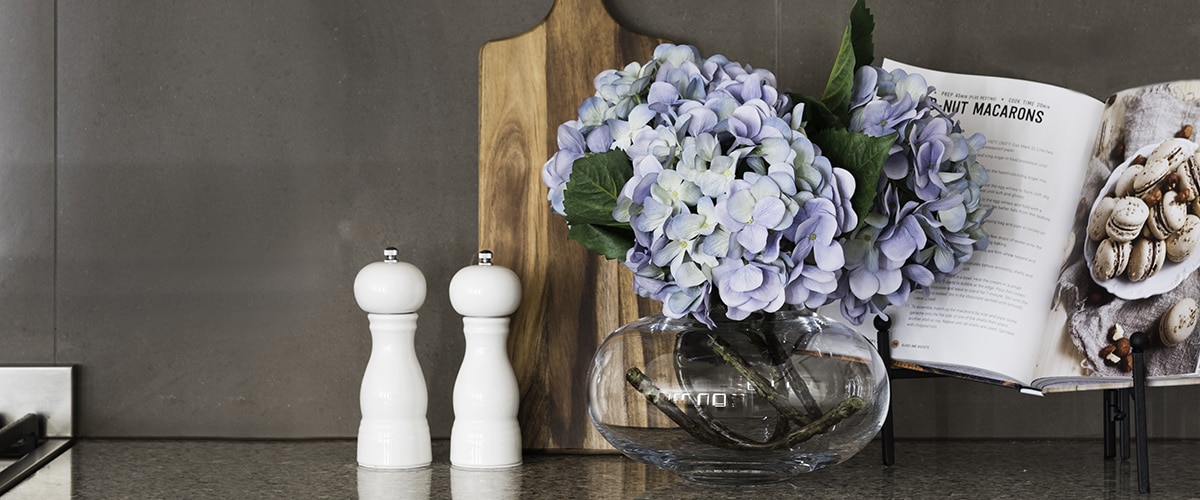 There's something warm and welcoming about farmhouse style kitchens. They draw us in and remind us, perhaps, of simpler times when they were the big, beating heart of the homestead. So it is no surprise that today's contemporary country kitchen, complete with all the latest functionality, is gaining popularity.
By blending traditional rustic elements and industrial inspired accents, your dream kitchen becomes the place for culinary pursuits, spending family time together, and entertaining seamlessly. Follow these simple pointers to create your idyllic country kitchen!
---

Pick natural materials
Set the tone of your contemporary farmhouse kitchen by choosing natural, raw, and natural looking materials for your cupboards, benchtops, splashbacks and floors. Together, these features create the overall 'vibe' of your kitchen. So select a combination of timber, stone and natural looking finishes that can be easily complemented by stainless steel, concrete and even natural metallic tones that are very on trend, like copper and brass.
If you're not sure about the right materials for your kitchen, our experienced designers can advise you on the best materials to create the look you're after within your budget.
---

Concentrate on colour
The increasing move away from classic all-white kitchens opens up exciting new colour palettes for today's country style kitchens. While there are no hard rules, popular colour schemes are bold black and grey, with statement navy blue and even metallic accents, all combined with natural wood tones.
Traditional white and softer hued cabinets still go a long way to set a farmhouse style, but the newer dramatic shades offer a stunning modern twist that's just as welcoming.
---
 
Choose your cabinet style
Your cupboards are a large part of defining your look and tone. Traditional timber creates a naturally warm feeling, and at Kitchen Craftsmen we offer an outstanding range of timber cabinets and doors, with over 98% of our timber product coming from Australian responsibly managed forests.
The ever-popular glass front cabinet is a signature farmhouse kitchen element, and Kitchen Craftsmen offers a range of glass fronted doors, providing a striking option for your kitchen. Durable and easy to clean, these come in a range of vibrant colours that help to anchor the style of a beautiful new kitchen.
---

Go big on benchtops
Country kitchens were traditionally hard working places, so your benchtops should reflect that. Wooden or marble benchtops create the traditional farmstead look, but today's engineered stone surfaces, like Caesarstone® are the ultimate 'workhorses' as well as being stunningly beautiful.
Available in a multitude of shades and textures, they complete the natural feel, and are durable and easy to maintain. Pop into one of our five Kitchen Craftsmen showrooms to see and feel them, and have a look at the Caesarstone® Calacatta Nuvo range that resembles soft white marble – perfect for creating the farmhouse feel.
---

Think about …
Consider all the other touches that define a modern country kitchen, like a large farmhouse sink, or even open shelving that adds a layer of charm. A substantial cooktop and oven help to echo a traditional kitchen, and contemporary metallic pendant lighting adds warmth and comfort.
---
At Kitchen Craftsmen, we love the farmhouse trend, and our huge range of quality options ensures you can create something that is unique. Our friendly team is always happy to help you put your stunning farmhouse style together, so talk to us today!