The classic Hamptons kitchen may have originally taken inspiration from upstate New York villages, it has evolved to represent coastal living through natural materials, classic shapes and lots of natural light. The Hamptons style is relaxed, breezy and casual, yet elegant, refined and charming. This coastal style is perfect for Perth. We love to gather, entertain, and get creative in our kitchens. So it's no surprise that the laid-back charm of this contemporary yet timeless style is so popular. Creating this look is about blending key ingredients in a beautiful Hamptons-inspired kitchen 'recipe'. Here's how to do it.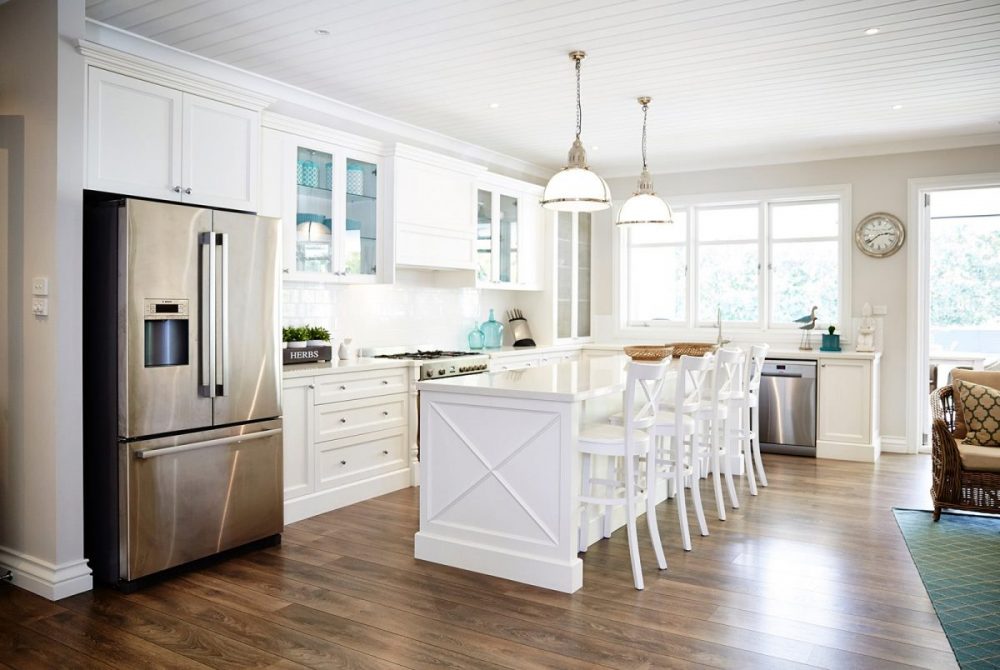 Open Plan Layout
Your kitchen layout needs a sense of casual freedom that blends traditional architectural design with a coastal style, with an easy, liveable working and socialising feel to your room. This creates space and helps open up your home for seamless entertaining, and is part of the friendly, welcoming aspect this style embodies. Our Kitchen Craftsmen designers are well versed in getting your layout working, so chat to them for inspiration and expertise.
A Generous Island Bench
A large island bench is the focal point of a Hamptons kitchen. It creates a 'centre' that's versatile enough to be functional as well as inviting. There's space for casual and intimate dining, festive and celebratory gatherings, and it provides surfaces for culinary preparation. A large bench not only offers the option for a great bar area (classic Hamptons) but also extra storage to keep your kitchen clear.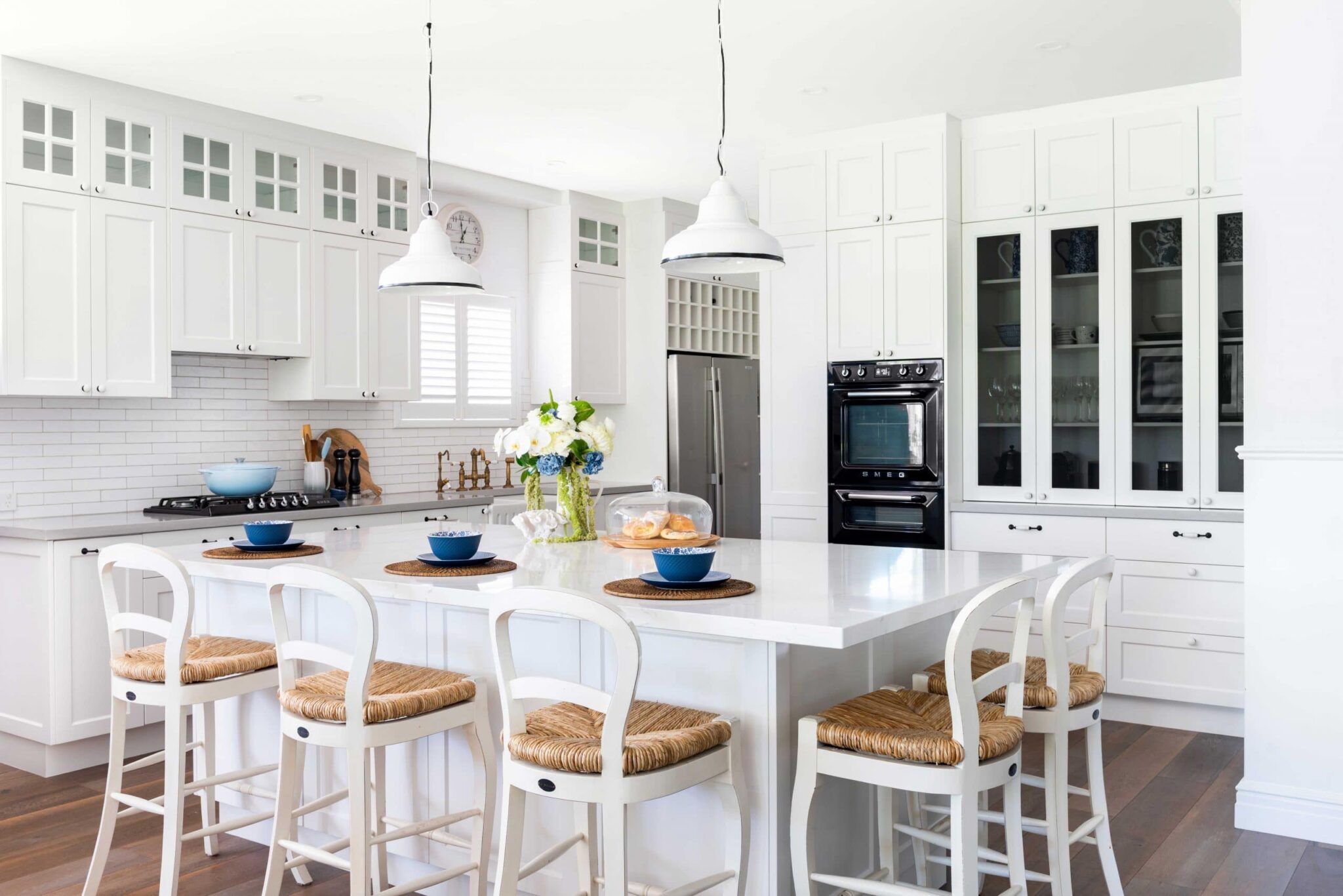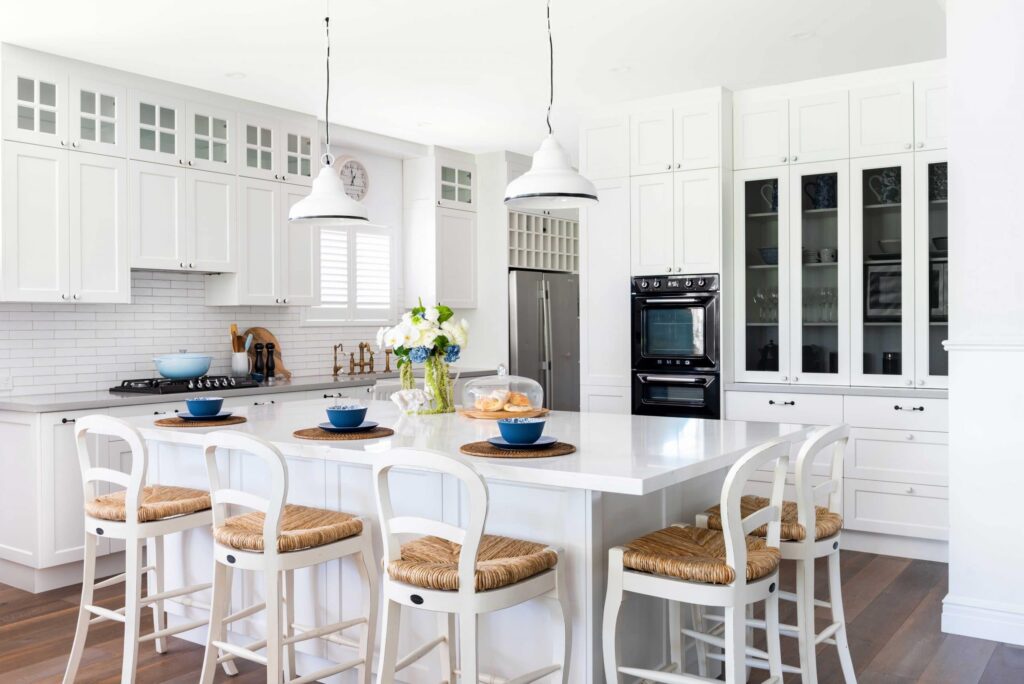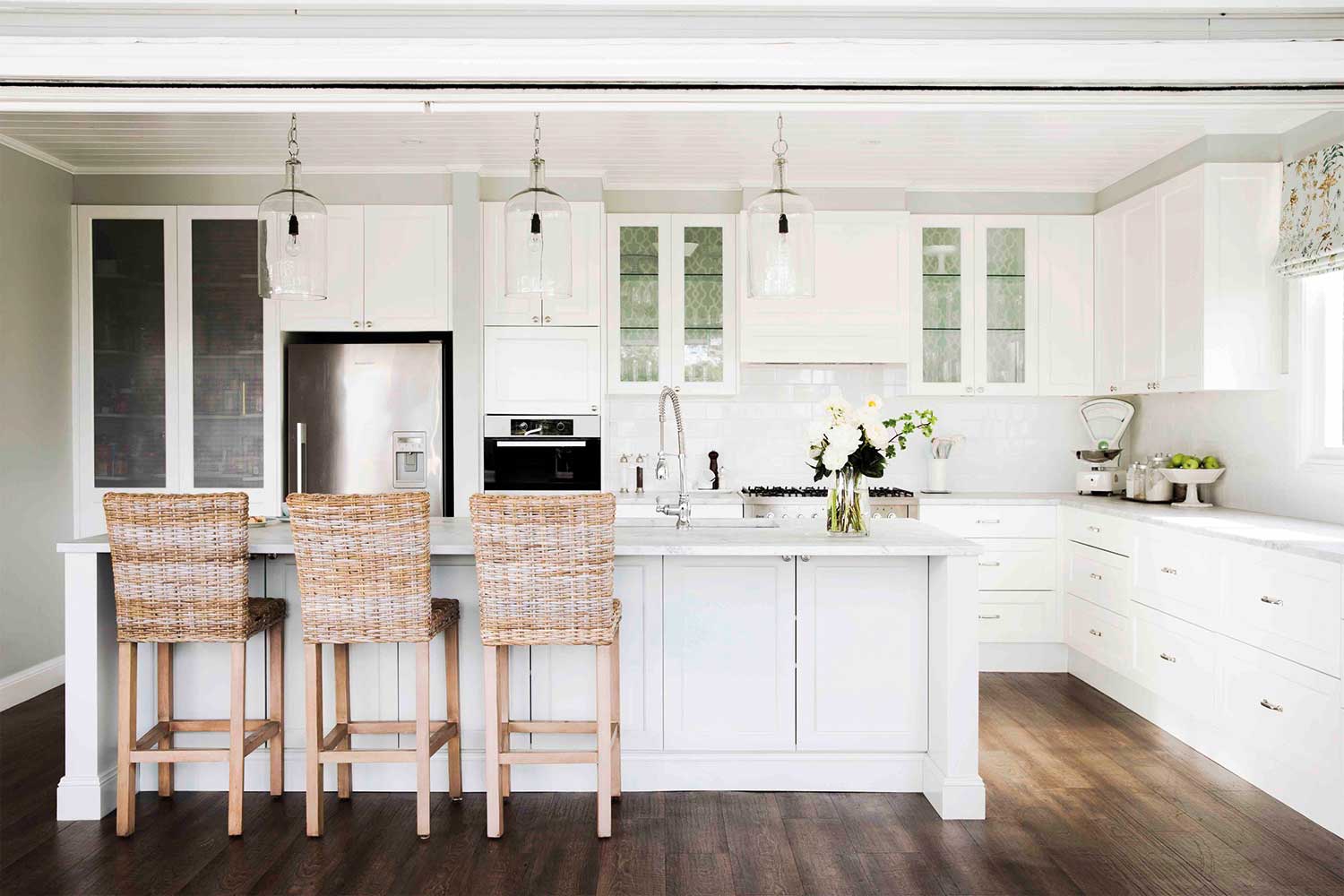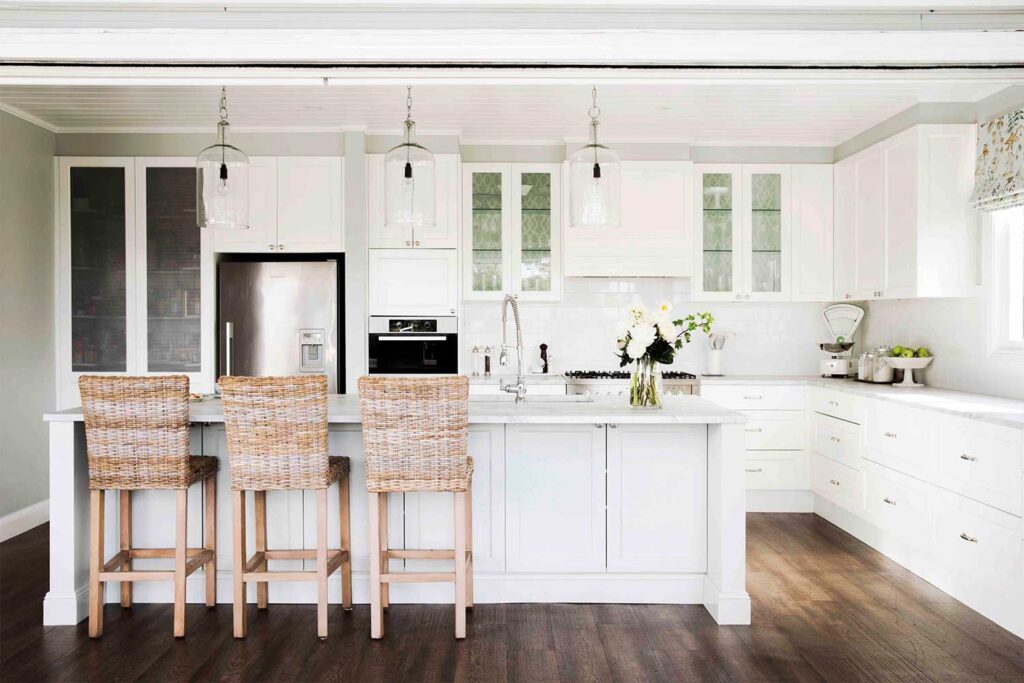 Panelled Cabinetry
If there's one element that says Hamptons beach house, it's the unmistakable, yet aesthetically pleasing 'Shaker' style cabinets. This strong, solid shape gives a framed and defined look, and your choice of handles opens up scope to customise things. You can easily incorporate this hallmark of Hamptons styling into your kitchen with custom-made designs by our partners at the Cabinet Makers Association of WA. Or opt for Laminex cabinetry from their White Series with a natural finish, low sheen, and wonderful colour choices.
White on White
The Hamptons kitchen styling method brings your ingredients together in the signature white colour palette. But not all white kitchens have the signature Hamptons style. White is elegant and reflective and creates a spacious feeling. With so many tones of white, you're never restricted. All whites work to enhance natural light that is reminiscent of beachside living. But which white is right? Look at the base tones. A grey or blue base will create a cool white character, while a yellow undertone will create a warm white. To get the classic and sophisticated Hamptons vibe throughout your kitchen, white cabinetry is recommended. Laminex White Linen is a warm white with a creamy tone, making it a great match for classic colour schemes. Their Polar White has a small amount of blue for optical brightness that works with solid colours and timbers.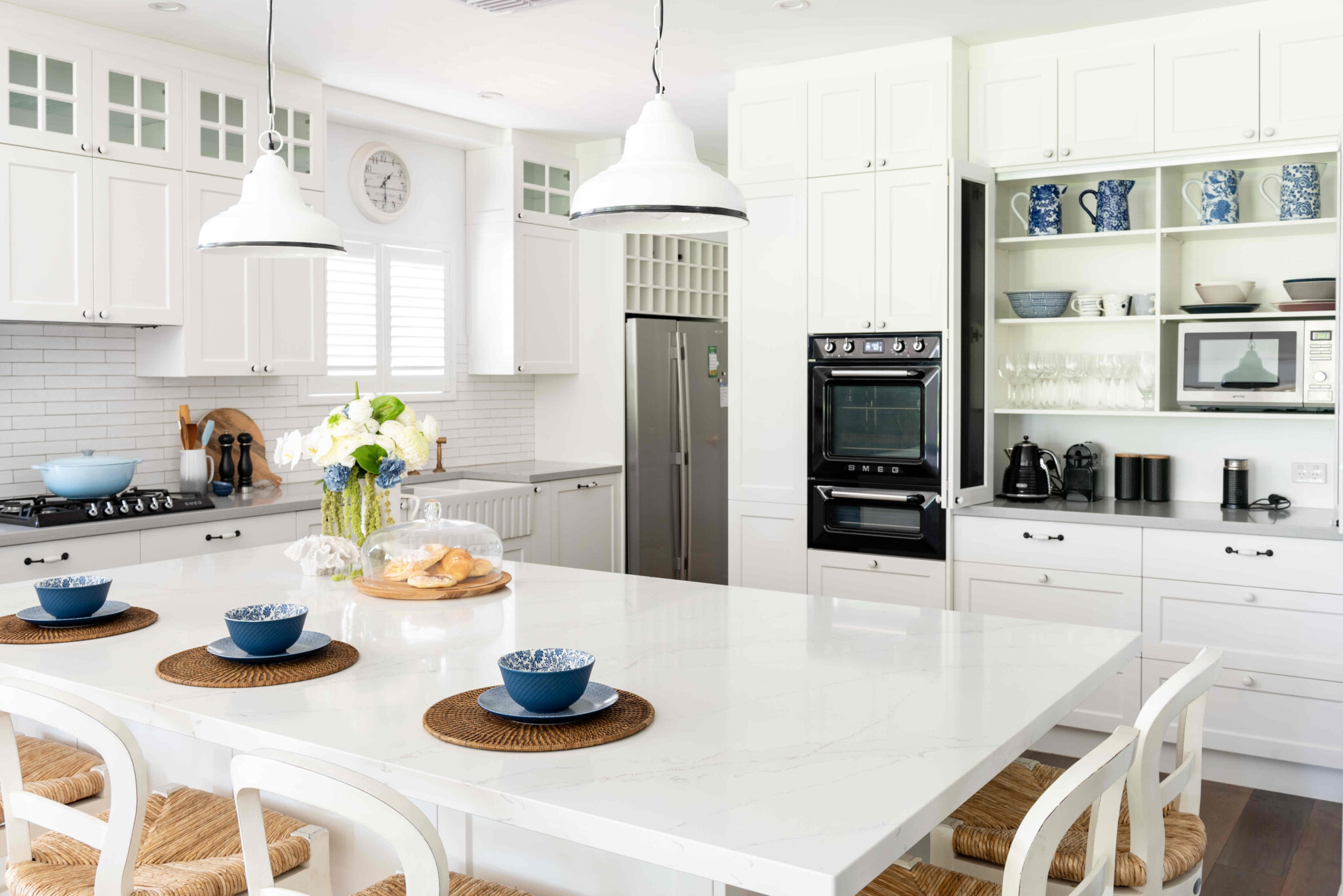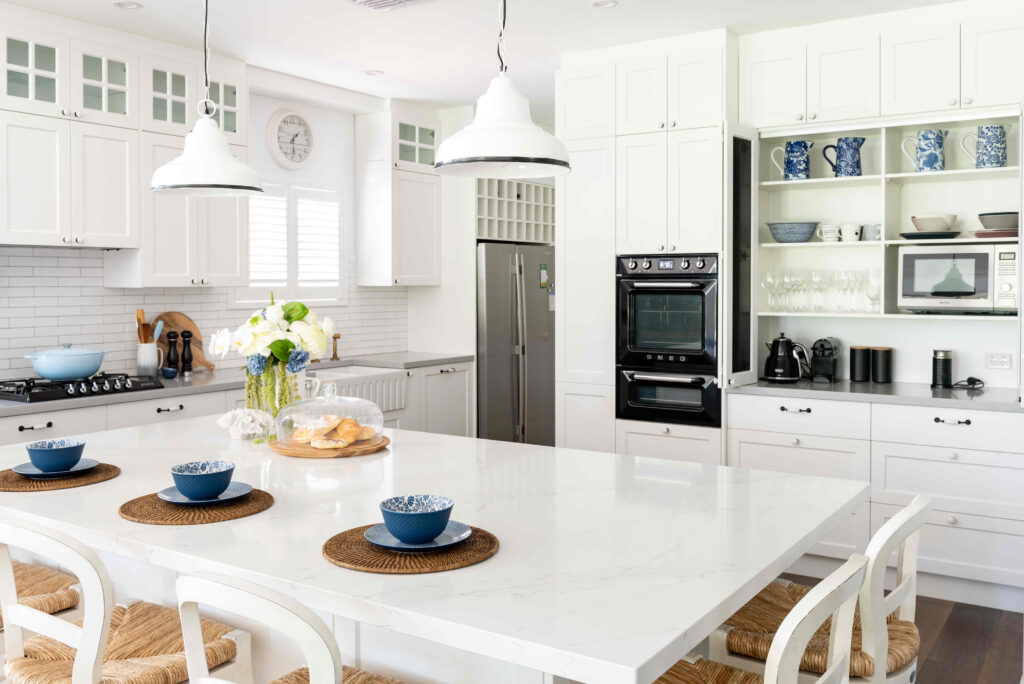 The Finishing Touch
Finishing touches for your authentic Hamptons-style kitchen includes oversized or statement pendant lighting, open shelves displaying beautiful porcelain platters and glass bottles, a large farmhouse sink, subway-tiled splashbacks, and bar stools in natural oaky tones.
Are the Hamptons calling you? Visit one of our 5 Kitchen Craftsmen showrooms across Perth for some great ideas and to get planning your style right away.