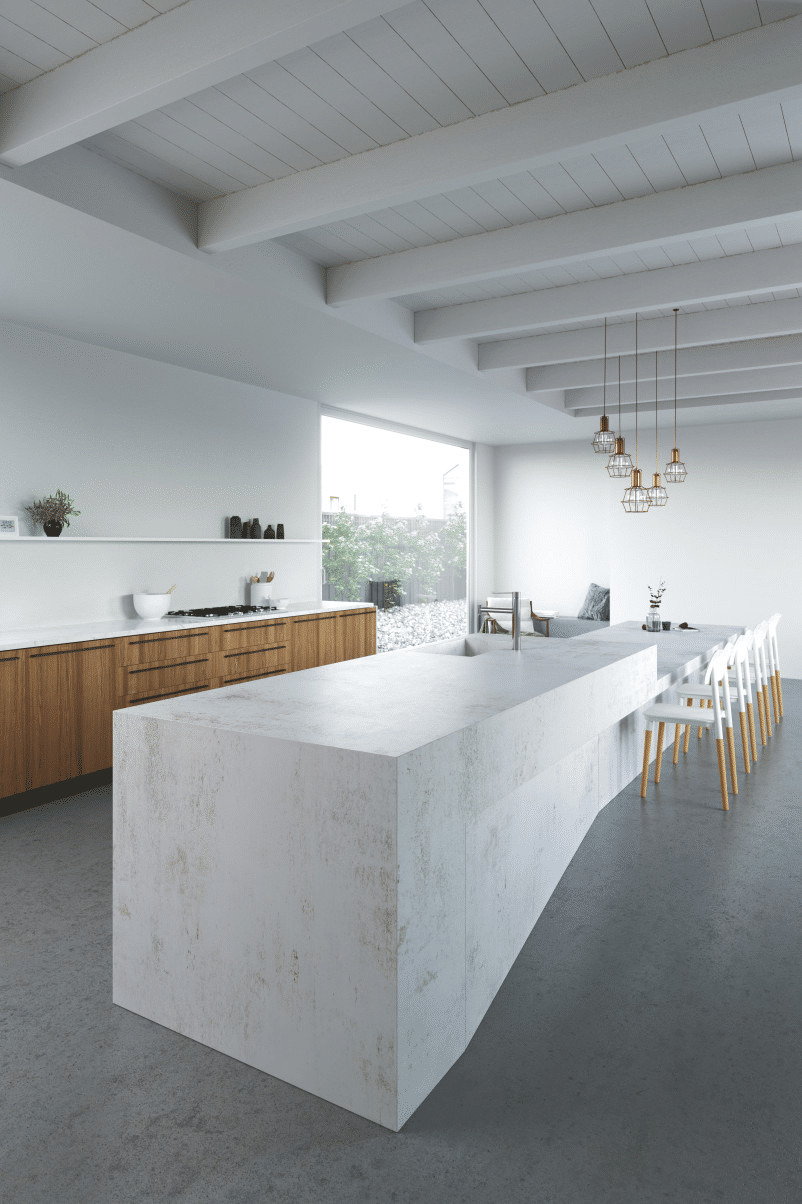 In the excitement of a brand new kitchen, it's easy to overlook the kitchen tiles. But they can change the look and feel of your kitchen. So it pays to think carefully about your tile choice. Whether you opt for ceramic, porcelain, natural or engineered stone or marble, consider these six things when choosing tiles.
---
1: Style and layout of kitchen

Image Source: Dekton
Work with the overall style of your kitchen and your home. Tiles offer a vast choice, so if you're looking for a country style, a contemporary feel, or a modern industrial style, you will find tiles that do the job. The size of your kitchen matters, and you can use tiles to help make spaces look larger, and lay them in a way that creates space. For instance, using the same tiles on the floor and the walls makes your kitchen look more cohesive and spacious.
---
2: Size and shape of tiles
 
Use larger tiles in smaller kitchens to make the space appear bigger and airier. Large format tiles give a dramatic focal point, and less grouting helps create an expanded feel. Consider the range of stunning Laminam Italian porcelain tiles. They come in very large sizes for a sleek and flawless look. If you're after a unique tile shape, or smaller, handmade tiles, remember they'll need to be laid carefully and individually, which can affect costs.
---
3: Colour and grouting

Image Source: Dekton
Picking your tile colour can be difficult. Avoid a colour that's likely to date in a few years, and make sure your tile colour works with your cabinets. Work with the natural and artificial light in your kitchen. Pale colours reflect more light, while dark tiles can make your kitchen feel cosy, and even sophisticated. Gloss tiles generally suit darker spaces as they reflect more light. And don't forget the grout! Traditionally, grout colour complemented the tile. Today we see more contrasting colour grout that emphasise lines and adds something extra to tiles.
---
4: Cleaning and maintaining

Image Source: Dekton
Kitchens are high traffic areas, so tiles that are easy to clean and maintain are a must. Think about their resistance to stains in particular. Laminam tiled floors are very durable, very stain resistant, and easily cleaned, without their beautiful surface characteristics being affected. Take a look at the beautiful Dekton range of floor tiles. This high-tech engineered stone is strong and has very low porosity. It doesn't need sealing and is completely stain proof, so there's no problem when it comes to cleaning up those nasty stains like red wine, coffee, markers or rust.
---
5: Durability and scratch resistance

Image Source: Dekton
Busy kitchens need floor tiling that is strong and wears well. With foot traffic, items dropped or broken over the years, investing in tiles that stand up to the job is important. Laminam tiles are highly scratch and abrasion resistant. The properties of the slab remain unchanged even after intensive traffic and frequent cleaning. Dekton tiles are highly scratch and abrasion resistant too. So a smashed plate or dropped knife leaves them looking great! Both Laminam and Dekton tiles are resistant to UV rays, so they won't fade or degrade over time.
---
6: Textures and patterns
  
Image Source: Dekton
Matt or a polished finish? It comes down to personal preference. Smooth glazed tiles are easy to clean. Natural terracotta tiles create a unique textured style, but need sealing to prevent stains. Textured tiles can really define your kitchen, but they're generally harder to clean. They also have more grout lines and an uneven surface. Patterned tiles make a bold statement in your kitchen, but don't need to be overwhelming. Use them creatively, such as borders.
---
---
Liked this blog? Check out other recent blogs!
Marble Benchtop Alternatives Made For Your Budget